Restaurants, Bars & Night Clubs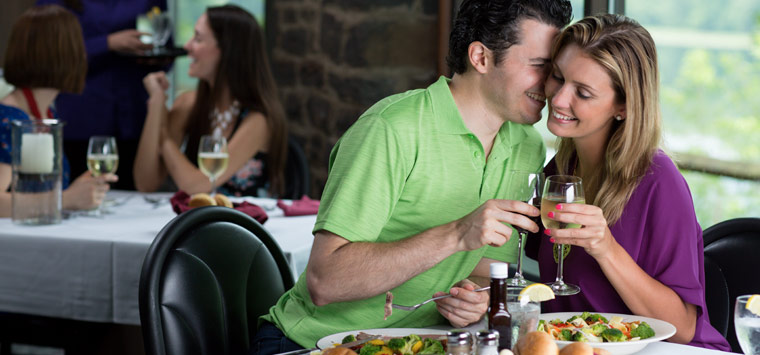 One of the best things about staying at our All-Inclusive Resorts is the Unlimited Breakfast, Dinner & Nightlife that's included in your stay!
As a Pocono Palace guest, you'll enjoy unlimited breakfast and dinner in our beautiful Lake View Restaurant. From the array of international fare featured on our popular Friday Night International Buffet to Saturday Night's new Chophouse Menu, you'll sample sublime cuisine in a spectacular setting.
Our guests agree, one of the best things about staying at our all-inclusive Pocono resorts is the unlimited breakfast, dinner and nightlife that's included in your stay. As a guest of one of our three Pocono resorts - Cove Haven Resort, Pocono Palace Resort or Paradise Stream Resort - you'll enjoy breakfast and dinner as part of your all-inclusive package.
No matter how you choose to indulge, you can count on a wonderfully fulfilling culinary experience, from Friday Night's world-class International Buffet featuring delectable tasting cuisine from around the world to Saturday night's new Chophouse Menu, featuring a variety of chophouse specialties based upon the most delicious pork, beef, poultry, and seafood recipes.
Spooner's Sports Bar & Grill

In the afternoon, after enjoying some video games or basketball, stop by Spooner's for a quick and convenient lunch*. Spooner's features all your favorite Snacks, Beverages, Pizza and hot or cold Sandwiches prepared to order. Eat in, take out or order room service. It's the perfect place for a midday snack and an ideal way to keep your energy up for nighttime entertainment and fun. Spooner's Sports Bar & Grill also features free Wi-Fi Internet! *Nominal Fee.

Lake View Restaurant

Enjoy unlimited breakfast and dinner every day of your stay in the Lake View Restaurant. This restaurant is known for its good food and ever-changing selections. And it's all part of your All-Inclusive package. Be sure to make our International Buffet a part of your Friday night plans for good times, good food and big portions. And join us again for our Chophouse Menu on Saturday. It's a tasty experience you'll not soon forget.

Applause Night Club

Dance off those calories from dinner at the Applause Night Club where nightly live bands, comedians and loads of laughter are always a sure thing.

TanLines Bar & Grille

Adjacent to the outdoor pool, this seasonal bar and grille is the perfect place to soak in the sun. It's the hottest outdoor bar and grille in the Pocono Mountains! Whether you're ready to tantalize your taste buds or take a refreshing plunge, this is the place to be!

Echo Lake Lounge

No resort stay is truly complete without indulging in some "Passion Potion," the specialty drink at our Nightclub Bar. Check out this prime place for CXO-led activities and specialty featured cocktails! Our bartenders love to shake things up!