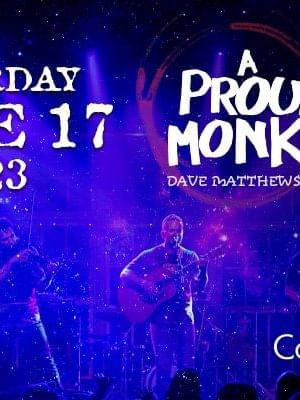 A Proud Monkey
The best Dave Matthews Band tribute!
If you're a fan of Dave Matthews Band, you won't want to miss the electrifying performance of A Proud Monkey! This talented group of musicians has dedicated themselves to faithfully recreating the infectious sound and energy of the legendary Dave Matthews Band. From their classic hits like "Crash" and "Ants Marching" to deep cuts that true fans will love, they'll have you singing along and dancing all night long. With incredible musicianship, soaring vocals, and an undeniable passion for the music, this tribute band is the next best thing to seeing the real thing. Whether you're a diehard fan or just love great live music, you won't regret experiencing the incredible talent of A Proud Monkey.
• Free to guests staying at Cove Haven
• $10 event-only tickets available – must call to book
Event Details:
*Schedule/Lineup are subject to change. Must be 18 years or older to enjoy our entertainment.
More Upcoming Themed Events: