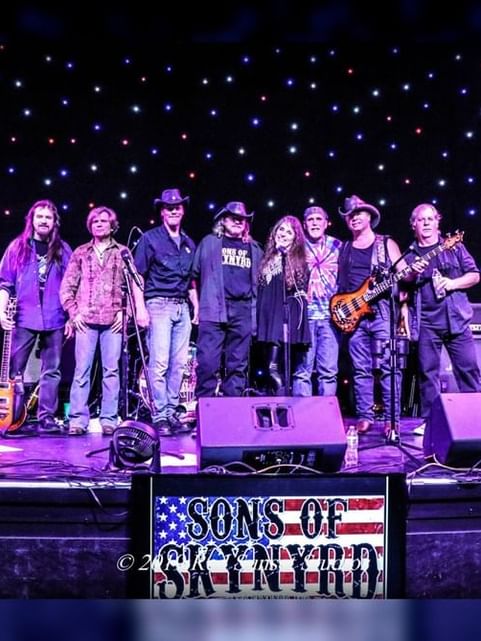 Sons of Skynryd
Are you ready for a journey back in time? Get ready to experience the ultimate Lynyrd Skynyrd tribute like never before! Introducing the electrifying sensation that will have you shouting, "Free Bird!" Ladies and gentlemen, presenting the incredible Sons of Skynyrd! With the same passion, energy, and undeniable talent, Sons of Skynyrd pays homage to the legendary Lynyrd Skynyrd, capturing their spirit and sound that has enthralled generations.
From the iconic guitar riffs to the powerful vocals that defined an era, Sons of Skynyrd recreates the magic of hits like "Sweet Home Alabama," "Simple Man," and "Gimme Three Steps."
Comprised of a group of seasoned musicians who share an undying love for Lynyrd Skynyrd's music, Sons of Skynyrd brings you an unforgettable experience that will transport you straight to the golden age of Southern rock. Prepare to be taken on an exhilarating ride through the timeless classics that have become the soundtrack of our lives. From the first note to the last, you'll be on your feet, singing, dancing, and reliving the legendary performances of Lynyrd Skynyrd.
Whether you're a lifelong fan or discovering the magic for the first time, Sons of Skynyrd is a must-see event that will leave you craving more!
Get ready to rock with the Sons of Skynyrd! Don't miss your chance to experience the power and authenticity of this incredible Lynyrd Skynyrd tribute band.
Free to guests staying at Cove Haven
$10 event-only tickets available - must call to book
Event Details:
*Schedule/Lineup are subject to change. Must be 18 years or older to enjoy our entertainment.
More Upcoming Themed Events: