Introducing our Romantic Suites for Couples
Relax in Our Luxurious Suites
Like a recharged romance, Pocono Palace's newly updated suites are even sweeter than before. Ranging from updates that include new furniture, carpet, flooring, lighting fixtures, curtains, and other touches, you'll walk into each of our unique suites and notice a difference that will make your romantic getaway even cozier.
Spacious and luxurious, our 165 suites offer everything you need for a memorable stay in the Poconos. With log-burning fireplaces, whirlpool tubs and round king-size beds beneath celestial ceilings, the focus stays on romance in our generously sized suites.
View all that is included in our Special Offers – you'll be amazed at all that's included for one low rate.
Want to add little something to your stay? Have a Special gift delivered to your room.
All gift items can be delivered to your Suite with a personalized message!
Explore Our Suite Options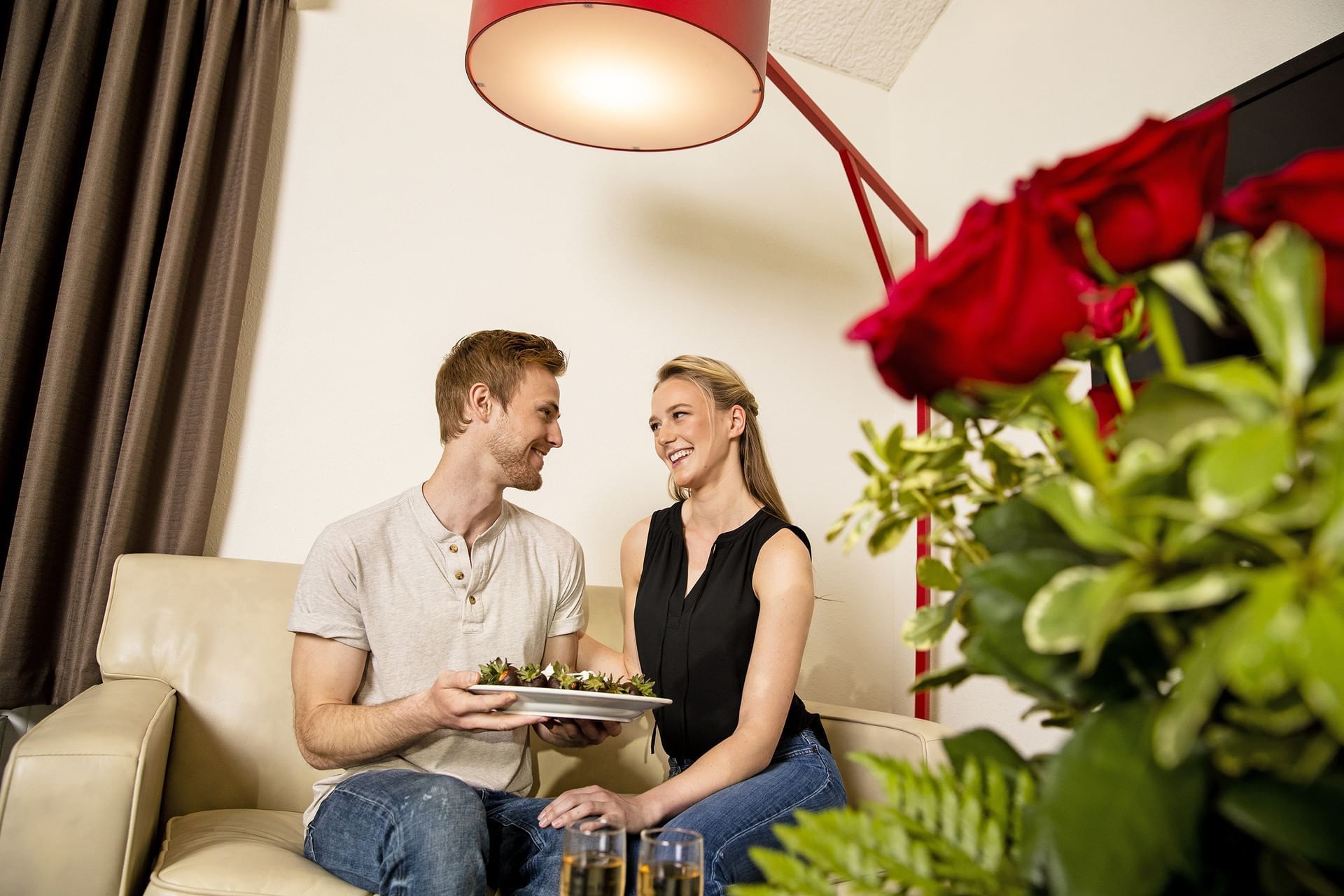 suite gifts
must haves
cuddle up
perfectly passionate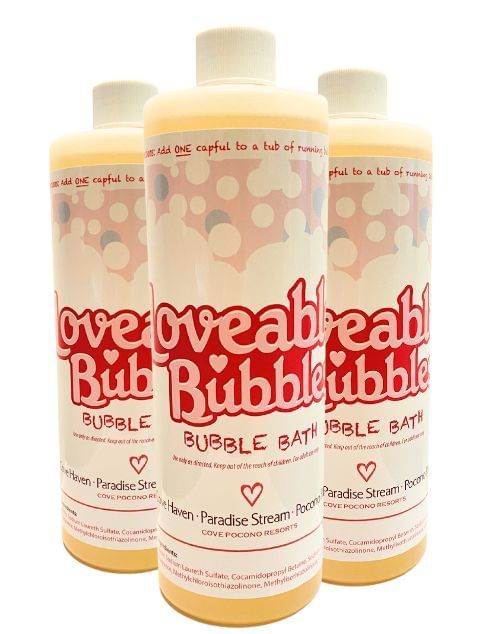 Bubble Bath
Bath time should be a fun time- and it will be with a bottle of bubble bath to get the party started.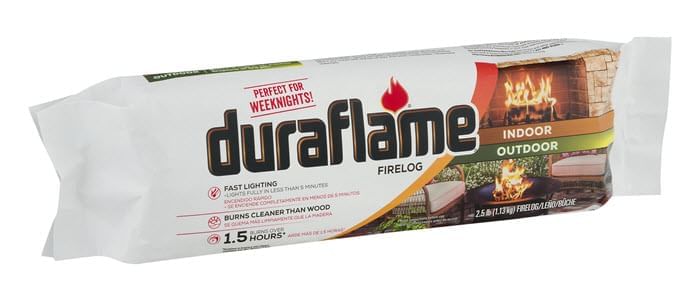 Fire Log
Turn your in-suite fireplace into a roaring backdrop for intimacy with our long-lasting fire log. Add a few Fire
Regular $8 each
Special Price – 2 for $13.95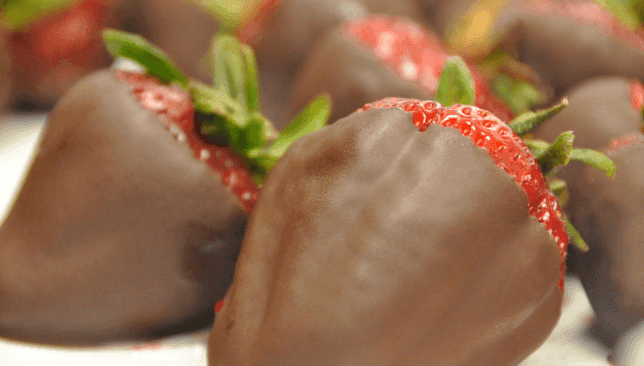 Sinfully Sweet
Set the mood for love with this indulgent Romance Basket, filled with tasty and tantalizing chocolate covered strawberries and a bubbly bottle of Verdi Spumante.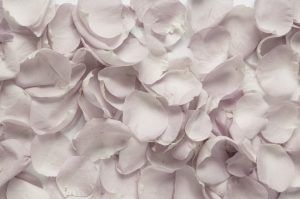 Rose Petals
The road to love is paved with petals. Set the scene with a trail of rose petals perfectly placed from your entrance and throughout the suite to set the mood to playful, passionate, and uninhibited.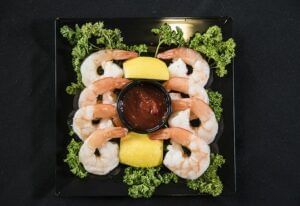 Shrimp Cocktail
Indulge in a little bit of shrimp with a big bite with our Shrimp Cocktail! Dine on 8 cocktail shrimp served with a zesty cocktail sauce and slices of lemon to add more tang to your taste buds. Fun to dip, fun to share, and fun to feast on in your suite before or after a hearty meal.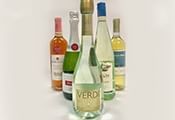 Champagne And Wine
We are pleased to offer an excellent selection of champagne and wine for your in-suite pleasure. Unwind and relax with your love and a bottle of wine or bubbly in front of a glowing fire in your suite.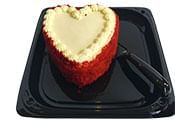 Heart-shaped Red Velvet Cake
Indulge on our decadent heart-shaped red velvet cake. It's rich, smooth flavors are sure to set the mood for a flawless evening!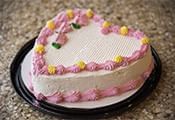 Ice Cream Cake
A perfect treat for sweethearts, our heart-shaped vanilla and chocolate ice cream cake can be personalized with a special message and presented at dinner.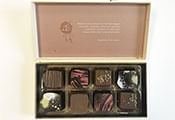 Chocolate Truffles
With 8 assorted delectable chocolate truffles, it will be hard to hand-feed these to your partner and not just yourself.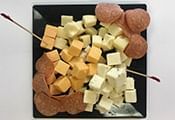 Cheese And Meat Platter
The perfect snack! Our cheese and meat platter features domestic cheeses – Cheddar, Pepper Jack and Swiss Cheese with sliced pepperoni.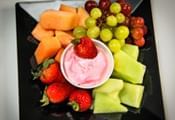 Fresh Fruit Platter With Yogurt Dip
Get a little playful with succulent strawberries, sweet cantaloupe and honeydew melon and grapes with a yogurt dip.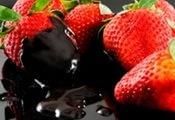 Chocolate Covered Strawberries
Everything is better when it's covered in chocolate! This ultimate mood setter is sure to please. Enjoy juicy strawberries dipped in chocolate with a side of freshly whipped cream.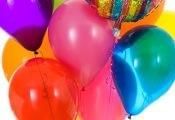 New! Balloon Bouquet
Surprise your love one on that special occasion with Happy Birthday, Happy Anniversary, or I Love You balloon set.
Small: 1 mylar/3 latex – $14.95
Large: 3 mylar/9 latex – $34.95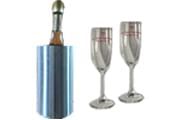 Champagne Bucket, Glasses, & Bottle Of Champagne
Celebrate your love with a little bit of bubbly! Purchase a bucket, two flutes, and a bottle of our 750ml Verdi Champagne to properly toast to your love!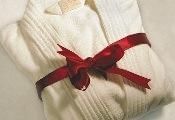 Plush Terry Bathrobes
Wrap yourselves up in luxurious comfort with white Royal Essence, 100% cotton terry robes embroidered with our resort logo. They're a perfect memento of your romantic, comfy stay.
$189.00 for a pair
$99.00 individual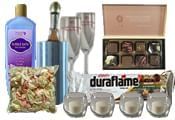 Suite Seduction
With a log on the fire, bubble bath, glowing candles, chocolate for indulgence, silver-tone champagne bucket, a 750 ml bottle of Verdi champagne, champagne glasses, and rose petals sprinkled throughout the suite, the only thing you have to remember to bring on your trip our resorts is each other!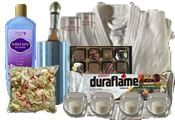 Ultimate Suite Seduction
Enjoy everything our Suite Seduction package offers PLUS two plush white terry bathrobes, Champagne and a special aphrodisiac treat.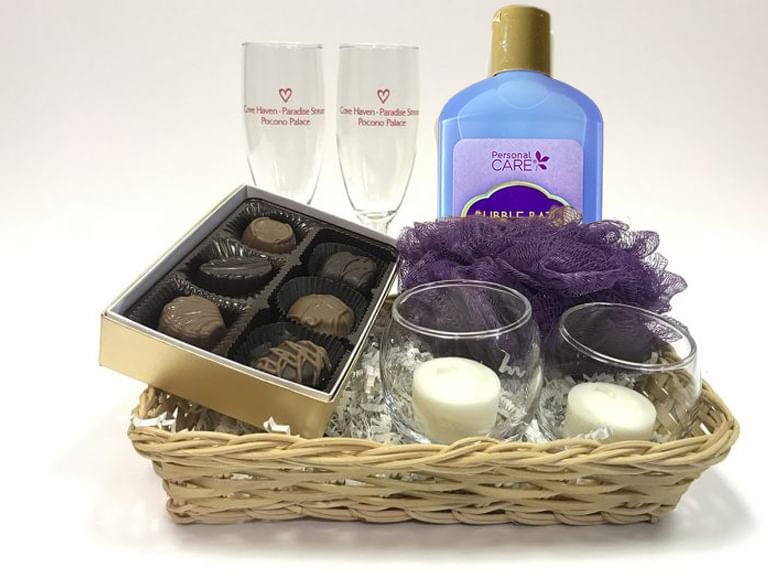 Romance Basket
Enjoy a bath-for-two with bubble bath, bath sponge and scented candles. A box of chocolates and champagne flutes presented in a wicker basket are sure to make your stay unforgettable.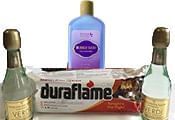 Passion Package
Ignite your passion with a split of champagne, scented bubble bath and our duraflame fire log.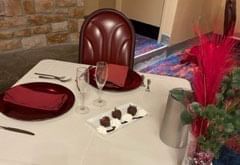 Setting The Mood
Our Setting the Mood package will see your table set with a white tablecloth, red napkins, candles, a rose centerpiece, 1 bottle of wine with 2 souvenir glasses, 2 chocolate covered strawberries, and our Chef's choice appetizer sampler.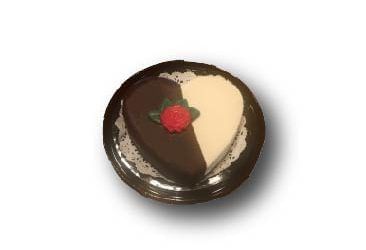 Heart Shaped Cheesecake
Dessert is the best part of any meal! Share this deliciously romantic heart shaped cheesecake with your lover.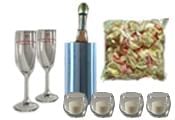 Semi-suite Seduction
It's semi-sweet but fully enjoyable- the Semi-Suite Package is perfect for couples looking to lightly indulge their romance! Features, votive candles, rose petals, two champagne flutes, a silver champagne bucket, and a 750ml bottle of Verdi Champagne.