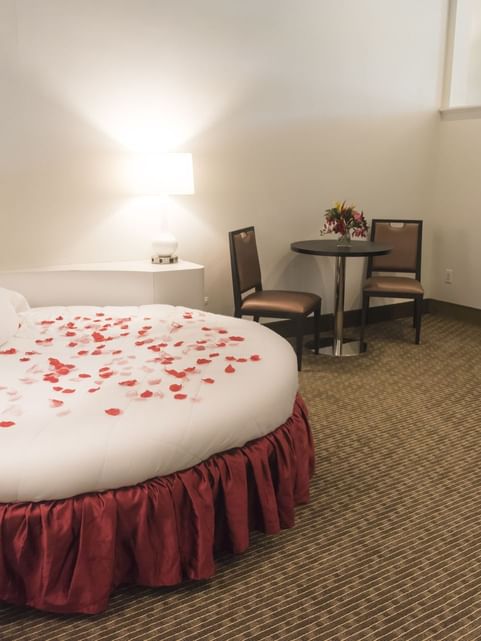 The 5 Best Honeymoon Suites in the Poconos
Published On 'January 07
THE 5 BEST HONEYMOON SUITES IN THE POCONOS
If you're planning your honeymoon or any other romantic getaway, the first thing you need to decide after picking a destination is where to stay. You want to choose a place with luxurious, comfortable rooms—a place where you and your partner can connect romantically.
The Poconos are one of the most romantic destinations on Earth and are also home to several exceptional couples resorts. Cove Haven Entertainment Resorts has three adults-only resorts built for romance. Our honeymoon suites are private, decadent, and cozy, the perfect place for some intimate one on one time with your loved one. We want to give you a sneak peek at what you can expect; read on to learn about the best honeymoon suites in the Poconos.
5 AMAZING HONEYMOON SUITES FOR ROMANCE IN THE POCONOS
Cove Haven Entertainment Resorts' honeymoon suites have something for every couple to enjoy. Plus, each suite is full of amenities, so you don't even have to leave your suite if you don't want to. Each suite has a unique theme and decor to provide a sexy and fun atmosphere. Here's a look at some of our most popular suites.

Champagne Tower
When you walk into the Champagne Tower Suite, the first thing you'll notice is the suite's namesake champagne tower, a 7′ tall whirlpool tub. While the champagne tower tub is a showstopper, the suite also has a heart-shaped pool, round king bed, dry sauna, a cozy fireplace.

Fantasy Apple
Also known as the "Blue Room," this suite has cerulean hues throughout, highlighted by the blue-shaded skylight above a modern living space with blue furniture. Guests enjoy the two-level floor plan, private heated pool, heart-shaped whirlpool tub, and stunning views of beautiful Echo Lake.
Juliette Suite
Live out a romantic fantasy in the Juilette Suite. This suite has been newly renovated, with a lightwood tiled floor, new furniture, lighting fixtures, and decor, which adds to its intimate aesthetic. It features our signature heart-shaped tub, fireplace, two flatscreen TVs, and more.
Lakeside Chalet
Enjoy outdoor seating and breathtaking views of Echo Lake at the Lakeside Chalet. This suite's amenities were designed to elicit playfulness, passion, and uninhibited emotions, making it a great place to rejuvenate your romance. Enjoy a heart-shaped whirlpool tub, log-burning fireplace, new furniture, and more.
Diana's Oasis
Diana's Oasis is one of the most unique honeymoon suites in the Poconos. This suite has a Roman-inspired theme, with shades of sand and granite, and is highlighted by the columns by the king-sized bed. Of course, Diana's Oasis is also chock-full of amazing amenities like the starlight ceiling, heart-shaped tub, and private pool.
Book One of the Best Honeymoon Suites in the Poconos
Book one of Cove Haven Entertainment Resorts' fabulous honeymoon suites for your romantic getaway to the Poconos. In addition to your luxurious suite, there are also delicious dining options, live entertainment, and fun activities to enjoy. Please book your suite online, or give us a call at 800-233-4141.