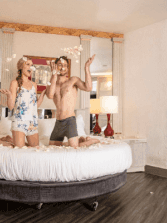 10 Romantic Hotel Games for Couples
Published On 'February 02
In fact, most couples effortlessly burn the midnight oil inside our tantalizing Champagne Tower Whirlpool suites, even after an unforgettable live performance and subsequent Whirlpool bath. It's also smart to arrive prepared for anything, including inclement weather or, heaven forbid, an illness.
10 FUN, SEXY, OR CLEVER HOTEL GAMES
Sometimes, toward the end of a lengthy, albeit memorable trip, the best remedy for a fatigued body is a relaxing evening of easy yet undeniably fun hotel games. And, yes, we also offer a variety of complimentary indoor activities! However, we recommend bringing along two or three hotel games that can smoothly spice up your love life. We surveyed a large group of couples (and put on our thinking caps) to come up with this handy list of ideas—enjoy!
20 Questions: There's no cap on amusement when it comes to 20 Questions. Try using the highlights of your trip (or your relationship) as the answers.
Build a Fort: Build a cozy fort together (without tearing the room apart). Then proceed to chow down on popcorn and sip on a beverage of choice. There's nothing quite like a good, old-fashioned sleepover!
Create a Date Night Jar: No, you don't need a jar to try this unique activity. Simply write down a variety of date night ideas on scraps of paper that are either new, easy, or a timeless classic. Don't disclose your ideas until it's date night.
Draw a Portrait of Each Other: Some couples get super creative by utilizing acrylic paints, palettes, oil pastels, and bristle brushes. However, sometimes a simple, honest portrait is precisely what your spouse needs.
Exploding Kittens: Very few card games are as funny, strategic, and downright silly at Exploding Kittens. Thankfully, no kitties were harmed in the making of this curiously romantic card game.
Loaded Questions: Loaded Questions remains one of the best conversation starters on the market. It helps young couples get to know each other better while also fostering deep thinking between lovers who've been married for decades.
Start a Two-Person Book Club: While reading isn't one of the most popular hotel games, it's an easy mid-afternoon or late-night activity for two. The trick is to read the majority of the book (leaving one chapter) before your arrival. Finish the book one morning, and share your thoughts about the various aspects of the novel while sipping on wine and savoring rare cheese.
Take a Trip Down Memory Lane: Share your favorite memories as a couple with one another. Taking a trip down memory lane typically garners heart-warming thoughts about your favorite destinations, vacations, dinners, shows, and dates.
The Kissing Game: Much like the "drinking game," choose a word (or action) in a cheesy romantic movie and kiss every time it's said or acted out.
Truth or Dare: You're never too old for truth and dare. There's no sexier place to play this classic game than inside one of our enticing hot tub suites.

ROMANTIC HOTELS IN PENNSYLVANIA
While we'd love it if you gave two or three of these hotel games a try this spring, don't forget that our all-inclusive packages include nightly entertainment, dozens of on-site activities, and fine dining. Cove Pocono Resorts is a short, scenic trek from Philadelphia, New York City, Allentown, and Scranton. Collectively, our three all-inclusive resorts in Pennsylvania combine to form the top-rated adult-only destination in North America. Please give us a call today at 800-432-9932 to book the romantic getaway of a lifetime!