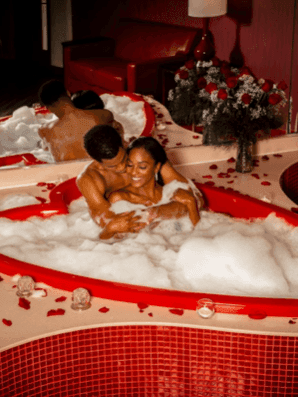 Poconos Winter Activities: 10 Ways to Stay Warm This Winter
Published On 'December 03
Winter welcomes crisp air, near-freezing temperatures, and, of course, millions upon millions of snowflakes. But don't let the chilly, frosty nature of this season change your mental outlook. Thousands of couples now embrace winter's peak by practicing hygge, a growing Danish obsession. To truly embrace these cool months, one must find creative ways to enjoy the outdoors while also reinvigorating indoors afterward. Guests here at Cove Pocono Resorts have easy access to countless classic Poconos winter activities, including snowmobiling, snowshoeing, and cross-country skiing, through our Key Around Club. But the best way to cozy up with your sweetheart is by trying one of these 10 ways to stay warm.
10 WAYS TO STAY WARM THIS WINTER
Yes, warming up is typically as easy as disrobing and standing next to a heater or hopping underneath a hot shower. But there are several imaginative ways to get the blood flowing this winter. After an afternoon filled with quintessential Poconos winter activities, pull up this handy list on your phone and give one (or two) a try!
Soak together inside a world-famous Champagne Tower Whirlpool (or heart-shaped hot tub). Our signature whirlpools are the perfect place to cap off a tantalizing outdoor adventure.
Snuggle close to a log-burning fireplace. Pour two mugs of hot cocoa while you're at it.
Hop inside a tanning bed. Work on that midwinter tan and warm up at the same time!
Indulge in a scorching plate of sliced roast sirloin, prime rib, or stuffed chicken breast. Your stomach will thank you.
Enjoy a couples wellness massage inside our on-site Poconos spa. This peaceful, modern spa offers everything from heated bamboo massages to focused tension relief.
Perhaps an adult beverage or two can warm you up? Purchase a mixed drink or craft cocktail, and let the alcohol slowly dilate your blood vessels.
Dim the lights, kindle the fire, turn on the flatscreen, and slip under the covers—nothing warms the body quite like an old-fashioned midwinter cuddle.
Unwind inside your private dry sauna. Many of our suites include a whirlpool, sauna, fireplace, and heated swimming pool.
Play a game of racquetball, tennis, or basketball—that will get the blood flowing.
Cove Haven Resort's movie theater is an idyllic spot to snuggle close with a box of popcorn.

5 CLASSIC POCONOS WINTER ACTIVITIES
There are dozens of things to do in the Poconos in winter, especially when you take full advantage of the aforementioned Key Around Club. But there are a few classics that every couple should try, especially when sugar-white snowflakes are lazily falling to the ground. We've compiled a shortlist of must-try Poconos winter activities to give you a taste of what's available during the cooler months.
Cross-Country Skiing
Horseback Riding
Skiing or Snowboarding Trip
Snowmobiling Adventures
Snowshoeing in the Pocono Mountains
To book a long-overdue Poconos winter getaway, please give us a call today at 1-800-432-9932. Our team will match you and your sweetheart with a suite that perfectly suits your style and budget.