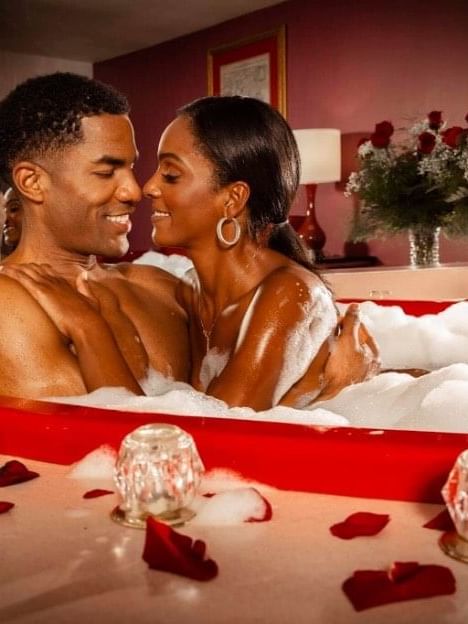 25 Fun Date Night Ideas: Cove Haven Edition
Published On 'September 18
Throughout the year, couples from all across the East Coast flock to Cove Haven in search of something genuinely unique and undeniably playful. As we approach autumn, arguably the most romantic season of all, many lovebirds turn their attention to the surrounding foliage. Upon fall's approach, the dense forestry transforms into a heartwarming meld of amber, crimson, marigold, and kelly green. However, the sun will inevitably begin to dip below the horizon. Thus, we've compiled 25 creative date night ideas in hopes of enhancing your upcoming romantic escape.
25 TANTALIZING, PASSIONATE DATE NIGHT IDEAS
Hopefully, these 25 uninhibited date night ideas provide a bit of flair to your next couples-only getaway to Cove Pocono Resorts, an award-winning trio of alluring destinations in the heart of the Pocono Mountains. Thanks to the all-inclusive Key Around Club, guests can enjoy the amenities at all three romantic resorts. As you can imagine, this creates a wholly customizable experience. You're also encouraged to explore the very best of the region, such as Bushkill Falls, Mount Airy Casino, Boulder Field, and the Delaware Water Gap. Helpful hint: Remember to bookmark these 25 date night ideas for future reference.
Sip on bubbly inside a seven-foot-tall Champagne Tower Whirlpool
Stroll through Bushkill Falls' 300-acre park
Enjoy therapeutic spa treatments, such as the hot chocolate massage
Sway to live music from a New York City artist
Win a prize during trivia night
Visit a local distillery
Watch an in-room movie through LodgeNet—perhaps a sappy romance, a holiday-themed love story, or a boo-rific horror flick?
Play a handful of tantalizing hotel games
Swim underneath the stars
Play billiards while sipping on tap brews or house cocktails
Laugh until you cry during a live comedic performance
Roller skate, hand-in-hand
Try not to tumble into each others' arms while ice skating
Turn back the clock inside the on-site video arcade
Zipline through the Pocono Mountains
Up the ante at Mount Airy Casino
Plan a candlelit picnic. Don't forget the wine and chocolate-covered strawberries.
Create an autumnal bucket list
Start your own book club, accented by a meat and cheese spread and a pot of tea. Perhaps finish that thrilling beach read that you started earlier in the trip.
Meander through a nearby vineyard at dusk
Try a bevy of new, exotic cuisines
Paint portraits of each other in your suite
Sip on a flight of craft beer at a local brewery
Double date with another couple at the resort
Explore a historic small town, such as Stroudsburg, Jim Thorpe, or Honesdale

THE ULTIMATE COUPLES GETAWAY IN PENNSYLVANIA
Thankfully for prospective guests, there's still limited availability during autumn's peak! Couples are urged to take full advantage of our hot deals, gift packages, and membership benefits. Unlike most Poconos lodges, Cove Haven's accommodations are the main draw, primarily because of the wood-burning fireplaces, heart-shaped whirlpool baths, dry saunas, and heated pools. While these fun date night ideas will assuredly come in handy this fall (or winter), our Chief eXcitement Officers (CXOs) are readily available to amplify the experience. Please call us today at 800-432-9932 to book a well-deserved couples vacation (or check availability online).