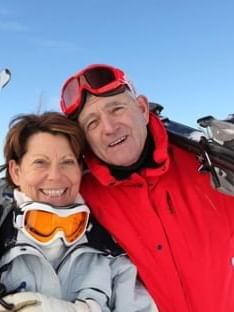 Romantic Skiing Getaways in the Pocono Mountains
Published On 'November 25
The best part is that you don't have to be a winter sports enthusiast to appreciate an afternoon of Nordic or alpine skiing, thanks in part to the region's picturesque natural beauty. It's no secret that the Pocono Mountains are widely recognized as the "honeymoon capital of the world," and Cove Pocono Resorts remains a beacon of light for city-based couples in desperate need of a full week of playful, passionate adventures. In hopes of enhancing your next wintertime escape to Cove Haven, we've pieced together a Poconos skiing guide, complete with tidbits on our favorite hills and Nordic trail systems. Let's start with Pocono Palace Resort's very own 400-acre winter wonderland, a peaceful cross-country skiing destination.

POCONO PALACE, A 400-ACRE WINTER WONDERLAND
While Cove Pocono Resorts offers a bevy of wintertime pursuits, including snowmobiling, snowshoeing, and snow tubing, only Pocono Palace Resort features an extensive Nordic ski trail system. This East Stroudsburg honeymoon resort properly utilizes its densely-forested, 400-acre estate, especially amid winter's hearth. Complimentary ski rentals are available on-site, and every guest has access to the resort via the Key Around Club. Cross-country skiing is a sublime way to explore new terrain while simultaneously working out your quads and glutes. If you're hoping to branch out to a local state park this winter, we typically recommend the trail systems at Tobyhanna State Park, Promised Land State Park, and Hickory Run State Park.

POCONOS-STYLE ALPINE SKIING AND SNOWBOARDING
Occasionally, Cove Pocono Resorts will offer money-saving packages that include access to a nearby ski destination, such as Shawnee Mountain in East Stroudsburg or Montage Mountain in Scranton. Both ski areas are geared toward alpine skiing enthusiasts and skilled snowboarders who value a meticulously-curated terrain park. But you can also partake in a wee bit of snow tubing at both locations. However, keep in mind that Cove Haven Resort is well known for its exhilarating snow tubing hill.
To learn more about Cove Pocono Resorts' many on-site winter activities, please read about The Land of Love Experience.

ROMANTIC WEEKEND GETAWAYS IN PENNSYLVANIA
We couldn't think of a more heavenly place to unthaw, unwind, and indulge after an afternoon in the snow than inside a world-famous Champagne Tower Suite. Contrary to popular belief, Cove Haven's most alluring season is winter, especially around the holidays. Once winter settles in for the long haul, couples flock into the Pocono Mountains for an extended break from congested streets, hectic workplaces, and log-jammed family schedules. With temperatures hovering around freezing, sweethearts gravitate toward our luxury fantasy suites, complete with heart-shaped pools, log-burning fireplaces, dry saunas, and, of course, those oft-photographed Champagne Tower Whirlpools.
To book a well-deserved romantic escape to Cove Haven, please give us a call today at 800-432-9932.