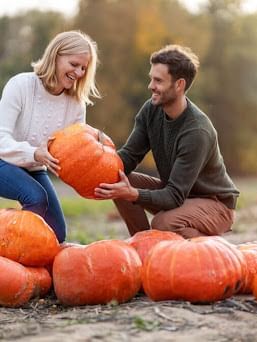 5 Amazing Fall Festivals in the Pocono Mountains
Published On
As the air turns crisp and leaves transform into a brilliant array of colors, the Pocono Mountains come alive with the spirit of autumn. Nestled within this picturesque landscape are Cove Pocono Resorts' three adults-only resorts: Cove Haven, Pocono Palace, and Paradise Stream. If you're planning a fall vacation to these romantic escapes, you're in for a treat as the Poconos host an array of incredible fall festivals that are nearby. Here's a look at some of the best fall festivals in the Pocono Mountains.
Harvest & Heritage Days
Located just a short drive from Cove Haven Resort, Harvest & Heritage Days celebrates fall in Downtown Honesdale. Immerse yourself in a world of pumpkins, hayrides, traditional crafts, live music, and mouthwatering treats. Check out the beautiful fall decorations in the local shops and witness an amazing wood carving demonstration.
Jim Thorpe Fall Foliage Festival
The historic town of Jim Thorpe, a stone's throw away from Cove Haven, hosts a mesmerizing Fall Foliage Festival that perfectly captures the essence of autumn. Stroll through the charming streets filled with arts and crafts vendors, live entertainment, and delectable seasonal treats. Don't forget to take a scenic train ride to take in the breathtaking fall foliage.
Pocono Food Truck Festival
What better way to savor the flavors of fall than at the Pocono Food Truck Festival, conveniently located near Paradise Stream? Indulge in a variety of gourmet delights from food trucks while browsing local artisans' creations. The backdrop of vibrant fall colors adds an extra layer of magic to this culinary and artistic extravaganza. You can also enjoy a chairlift ride.
Hawley Harvest Hoedown
If you stay at Pocono Palace, you're in for a treat with the nearby Hawley Harvest Hoedown. This charming annual festival dates back over 30 years and remains a favorite for locals and visitors alike. You can soak in the autumn vibes at the event with pumpkin decorating, a lumberjack competition, local vendors, and more.
The Great Pocono Pumpkin Festival
Located just a short drive from Cove Haven, The Great Pocono Pumpkin Festival is a family-friendly celebration of all things fall. With hayrides, gourd grenades, pumpkin picking, paintball, fair food, and carnival rides, this festival is big on fun. The scent of pumpkin spice in the air and fabulous autumn decorations will truly make you feel like you're in a fall wonderland.
Romantic Accommodations for Fall in the Poconos
Don't miss out on the chance to make this fall unforgettable by taking a vacation to the Poconos and enjoying the wonderful festivals. Book your stay at Cove Pocono Resorts and immerse yourself in the captivating beauty and festivities of the Pocono Mountains. With memories made at these remarkable fall festivals, your autumn getaway will be etched in your heart forever. To make a reservation at one of our romantic resorts in the Poconos, book online or call 800-233-4141.