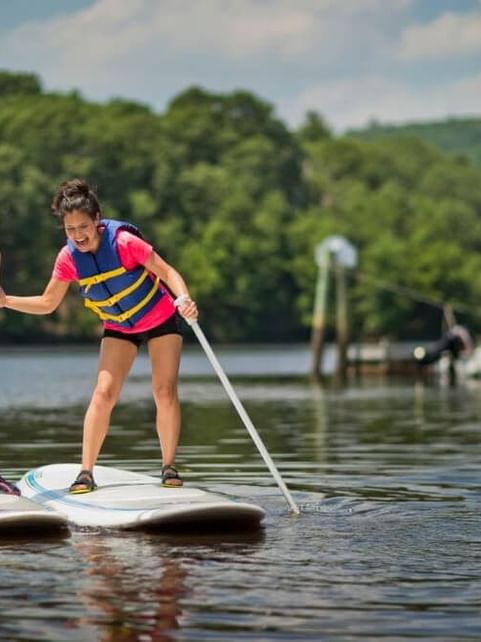 5 Couples-Friendly Water Activities on Lake Wallenpaupack
Published On 'June 30
Lake Wallenpaupack is a human-made lake that was built in 1926, covering 5,700 acres. Given the massive area of the lake, the activities which can be done around Lake Wallenpaupack are far-reaching. There are six recreation areas, including forest lands, wildlife, walking trails, and boat slips. Let us talk about Lake Wallenpaupack available at or near the ultra-romantic Cove Haven Resort.
1. SPEND A DAY ON THE BEACH
There are many things that you can do near Lake Wallenpaupack's sandy banks. One of them is to head to the beach for a romantic picnic. Palmyra Township Public Beach on Lake Wallenpaupack is a great place to soak up some sunshine and have a picnic.
2. TRY ANGLING
One of the top Lake Wallenpaupack activities includes fishing. This lake harbors hefty smallmouth bass, yellow perch, and channel catfish. This lake is an ideal place to introduce the hobby of fishing to your partner. For those who want to try angling, you can hire a local guiding service, such as Ray's Charter Guide Service, which offers outings for pros and first-time anglers.
3. PADDLEBOARD ATOP LAKE WALLENPAUPACK
Would you rather spend some time on a paddleboard? Lake Wallenpaupack is perfect for seasoned or first-time paddleboarders. Cove Haven Resort offers free paddleboard rentals with every package.
4. EMBARK ON A PONTOON RIDE
A trip to a lake isn't complete without a lengthy pontoon ride under the sun! Feel the breeze on your face as the boat skims over the lake in the summertime. The best way to explore a lake is to hop aboard Cove Haven's pontoon boat, where you can enjoy sunbathing, sightseeing, and fresh lake air.
5. KAYAK NEAR COVE HAVEN
What better way to explore Lake Wallenpaupack than to paddle in a kayak? Breathe in the beauty of the Pocono Mountains as you paddle along the lake's edge near Cove Haven Resort. Spend quality time with your partner as you listen to the sound of water splashing around you.
This summer, try out your hand at some of Lake Wallenpaupack's most serene water activities. Cove Haven Resort is famous for being the birthplace of the heart-shaped hot tub and the seven-foot-tall Champagne Tower. Rekindle your romance and book a stay at Cove Pocono Resorts, where you can check availability online.