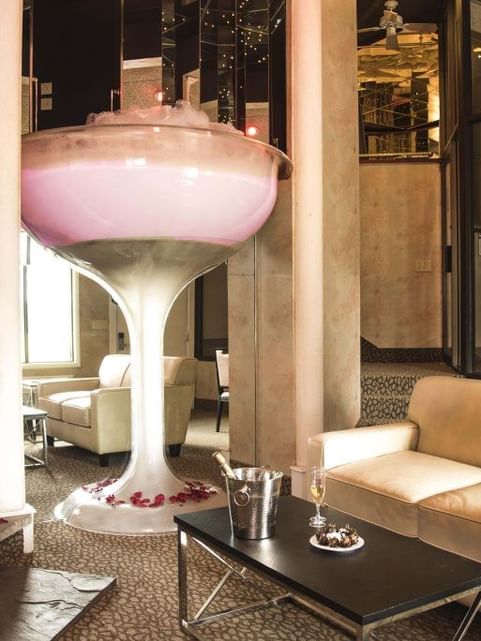 9 Reasons to Book a Champagne Tower Suite
Published On 'August 05
Our premier adult-only resorts are highly rated and provide couples with a rare chance to escape. One of the highlights of our resorts is our Champagne Tower Suite. The Champagne Tower Suite is the perfect setting for couples honeymooning, celebrating an anniversary, or looking for a romantic destination. Read on to find out why you should book a Champagne Tower Suite for your next romantic getaway to the Poconos Mountains.
9 REASONS GUESTS LOVE STAYING AT OUR CHAMPAGNE TOWER SUITE
Champagne Glass Whirlpool Bath For Two: Our Champagne Tower Suite is named after an unforgettable whirlpool bath shaped like a champagne glass. This seven-foot bath is big enough for both of you to sit back and relax in.
Heart-Shaped Pool: The champagne glass whirlpool bath isn't the only water feature our Champagne Tower Suite offers; it also comes with a glass-enclosed heart-shaped pool. The pool is heated, ensuring it's the perfect temperature at all times.
Romantic Fireplace: Dim the lights and set the mood with a cozy log-burning fireplace. This romantic feature will help you and your partner relax.
Massage Table: Enjoy your partner's touch on the room's massage table. The massage table comes with a heat lamp to help heat things up.
Round King-Size Bed: Our romantic round king-size bed is an exceptionally comfortable place to cuddle up with your loved one.
Dry Sauna: The Champagne Suite's dry sauna is the perfect way to relax. This small enclosed room will reach high temperatures and stimulate a relaxing atmosphere for you and your partner.
Unique Celestial Ceiling: Turn off the lights, close the curtains, take a look above, and marvel at the celestial ceiling. This unique feature is the perfect moodsetter for your sexy escapades.
Individually Controlled Air Conditioning & Heating Unit: Take control of the temperature in your suite with your own air conditioning and heating unit. Whether you need to heat things up or cool off, you are in complete control.
You'll Fall Further In Love: Your Champagne Suite's unique amenities help set the mood for the perfect romantic getaway. Everything has been meticulously crafted and placed to create the ideal setting for you and your loved one to spend quality time together and grow closer as a couple.

The Champagne Tower Suite has been recharging romances with an intimate getaway in the Poconos Mountains since 1984, and yours could be next. To book your stay at the Champagne Tower Suite, check availability online or call 800-432-9932 today.