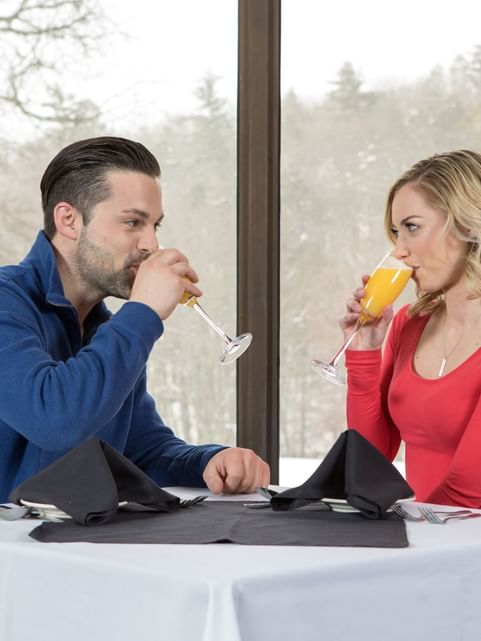 5 Romantic Restaurants in the Poconos
Published On 'November 10
5 ROMANTIC RESTAURANTS IN THE POCONOS

The Pocono Mountains are an incredibly romantic destination, countless couples visit every year to recharge their romance. When staying at one of Cove Pocono Resorts' three couples resorts, you'll have access to amazing on-site dining. However, if you want to venture outside of the resort, we're situated near some of the most romantic restaurants in the Poconos. Here's our list of the top five romantic restaurants in the Pocono Mountains.

GRESHAM'S CHOP HOUSE
Enjoy dinner with a delicious meal, amazing views, and a great atmosphere at Gresham's Chop House in Hawley, PA. This romantic Poconos restaurant is situated on Lake Wallenpaupack, delighting diners with excellent views of the lake. Whether you're looking for upscale Italian fare, mouthwatering steaks, and more.

FAIRVIEW CAFE
For a fancy date night out, you can't go wrong with the Fairview Cafe. This elegant restaurant has a varied menu; even the pickiest of eaters will find something they enjoy here. The Fairview Cafe prides itself on using the finest and freshest ingredients to ensure they deliver a stellar meal.

DYBERRY FORKS
If you're interested in a farm-to-fork dining experience, check out Dyberry Forks. This boutique eatery uses local ingredients to produce fantastic meals. The decor and ambiance are unique, making a stop at Dyberry Forks an unforgettable dining experience. Their menu includes delicious pork, chicken, beef, and seafood entrees.

CAPRI RESTAURANT
Another waterfront restaurant on Lake Wallenpaupack, Capri Restaurant is a family-owned restaurant specializing in authentic Italian dishes as well as American-style steaks. Their tasty meals and pristine location has made Capri Restaurant a go-to place for a romantic dinner in the Poconos for over 50 years.

RAVYN & ROBYN FOOD & WINE
Enjoy a romantic meal with your sweetheart at Ravyn & Robyn Food & Wine. This cozy lounge resides in a former bank, and it makes for quite the atmosphere. Their masterful chefs will delight you with a fantastic variety of scrumptious food. Wine connoisseurs will enjoy their excellent selection of fine wines.

MORE ROMANTIC DINING AWAITS AT COVE POCONO RESORTS
While all these restaurants fit the bill for a romantic evening out in the Poconos, don't overlook the dining options at your Cove Haven resort! All three of our resorts have a romantic restaurant on-site for you and your partner to enjoy. Plus, unlike the restaurants mentioned above, you can be sure there will be no children making a scene while you savor your meal. Our adults-only Poconos resorts are ready to serve up delicious meals that will excite your palate.
We'd love to host your next vacation to the Pocono Mountains. To stay at any of our romantic resorts, please check the website for availability or give us a call at 800-233-4141.