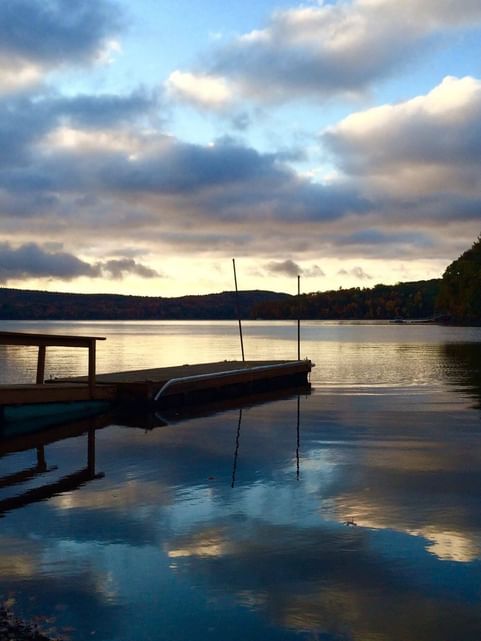 Stargazing: An Overlooked Romantic Activity
Published On 'November 04
STARGAZING: AN OVERLOOKED ROMANTIC ACTIVITY
There's no shortage of romantic activities for you and your loved one to do in the Poconos, but why not try something new? When you think of couples' activities, stargazing probably doesn't immediately come to mind. However, stargazing can be incredibly romantic. The team at Cove Pocono Resorts encourages couples to give this romantic activity a chance. To help you get started, we've compiled a guide on stargazing.
STARGAZING WITH YOUR LOVED ONE
For thousands of years, people have looked up into the sky in wonder, making up stories of the bright lights above. There's a reason this activity has attracted so many people; there's no denying the beauty of the marvelous night sky lit up with countless stars. You and your loved one experience it all with a romantic night stargazing.
WHAT YOU NEED FOR A ROMANTIC NIGHT STARGAZING
The great thing about stargazing is there isn't much planning involved. The most important thing is a good location. The shining lights from bright cities make it hard to see all of the stars above. Out in the Poconos, away from all the hustle and bustle, is a great place to sit back and gaze at the stars.
Once you have your spot picked out, there are a couple of other things you'll want on your night out. Bring a blanket to sit on and another to wrap you and your partner in to keep warm. That's it. With your spot picked out, and something to sit on, you're ready for a romantic night stargazing. Optionally, you might consider packing some food for an evening picnic. A telescope will give you a clearer view of what's happening in the sky, but it isn't necessary for this romantic experience.
DELIGHT IN THE BEAUTY OF THE NIGHTSKY
Once you're all set up and ready for your stargazing date, that's when the fun begins. Prepare to be dazzled by some of the universe's most beautiful scenery. It can be fun for you and your partner to try to find the constellations. Or, make up your own constellations; the stories of the stars above are open to interpretation.
Another thing to look out for during your stargazing experience are shooting stars. These streaking lights may look like stars, but they're actually rocky debris that enters Earth's atmosphere. It is said that wishing on a shooting star is lucky, so be sure to keep an eye out.
Above all else, you and your loved one will enjoy each other's company amid a starry backdrop. This romantic setting, combined with the presence of your partner, makes for a magical evening neither of you will soon forget.
ROMANTIC STARGAZING AT COVE POCONO RESORTS
All three of Cove Pocono Resorts' adults-only resorts in the Poconos are ideal spots for stargazing. After your romantic stargazing adventure, turn back to the resort for amazing food, live entertainment, and fun activities.
Cove Pocono Resorts has been recharging romances for decades, and yours could be next. To book your next romantic getaway to the Poconos with us, please call us at 800-233-4141 or check availability online.