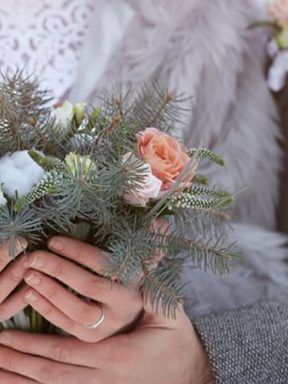 A Wintertime Vow Renewal in the Pocono Mountains
Published On 'February 15
Over the years, Cove Pocono Resorts has become one of Pennsylvania's premier vow renewal locales because of our tantalizing on-site activities, alluring whirlpool suites, and complimentary nightly live entertainment. In fact, we specialize in vow renewals, intimate weddings, engagements, and honeymoons. Throughout your stay here in the Land of Love, you'll be surrounded by loving couples, young and old, helping create a uniquely romantic, relaxing, and playful atmosphere. As an added bonus, the serene, whitewashed Pocono Mountains make for a picturesque wintertime backdrop.

Planning A Memorable Vow Renewal
Vow renewals start at just $375 through the Basic Package. We provide three vow renewal packages here at Cove Pocono Resorts, ranging from $375 to $825. Depending on which package you choose, your vow renewal could include an intimate indoor ceremony performed by a local officiant, sparkling champagne, cake, a photo album, a 30-minute photo session, and several other perks. The Land of Love also provides impeccable service, world-class cuisine, and elegant wedding venues. Each vow renewal here in the Pocono Mountains is genuinely unique because we offer fully-personalized packages.

Intimate Wedding Venues
Nearly every square foot here in the Land of Love is a potential ceremony locale. Many couples, even in the wintertime, prefer to recite their heartfelt vows in the outdoors. The most popular outdoor wedding venue at Cove Haven Resort is our lakefront gazebo on tranquil Lake Wallenpaupack. Otherwise, if you're hoping to stay warm throughout the weekend, the intimate Cove Haven Wedding Chapel overlooks Lake Wallenpaupack. The Wedding Chapel is ideal for those who're planning on having a small group of guests.

Another Memorable Pennsylvania Honeymoon
Arguably the best part of renewing your vows in the Land of Love is the honeymoon. All-inclusive four-night vow renewal packages start at just $2,311 per couple, which includes the ceremony, luxurious accommodations, breakfast, dinner, on-site activities, and live entertainment. After a hot breakfast, explore the Pocono Mountains via snowmobile, cross-country skis, or snowshoes. Return to your enticing suite for a soak inside a Champagne Tower Whirlpool before indulging in steak and lobster. Cap each evening off with live music, comedic acts, or eye-popping magic.

Best Poconos Resorts
There are dozens of things to do in the Poconos for couples, especially here in the Land of Love. Cove Pocono Resorts offers something genuinely unique for couples: a playful, uninhibited, and passionate escape from reality. The Land of Love is ideal for those hoping to make deeper connections in a carefree, playful atmosphere among fellow lovebirds. Please give us a call today at 1-800-432-9932 to learn more about our many romantic getaway packages!