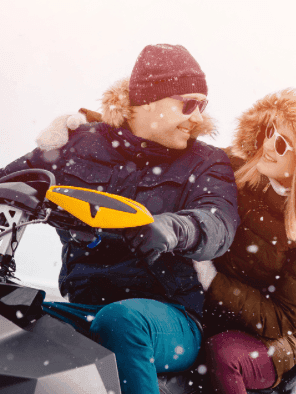 Adventure and Romance: Snowmobiling in the Poconos
Published On 'November 02
Winter is often associated with heartwarming holidays, festive drinks, and, of course, heartfelt proposals amid falling snow. But don't forget about the many outdoor activities that help facilitate romance, flirtation, and a healthy dose of adventure. Among the many perks to a mid-winter getaway to Pocono Palace Resort, including nightly entertainment, fine dining, and shuttle services, is the fact that you'll have the rare opportunity to try snowmobiling in the Poconos for free!
FINDING A SNOWMOBILE RENTAL "NEAR ME"
Reserving a snowmobile rental in the Poconos can be quite costly; the insurance alone costs a fortune. But here at Pocono Palace Resort, all guests can hop aboard a safe, well-maintained snowmobile en route to a nearby winter wonderland. Beginners are more than welcome to join the frosty fun as each excursion is led by a trained professional who will help every step of the way. While the "sled" tours are located near our East Stroudsburg location, guests at all three resorts can spend a couple of hours in the backcountry powder thanks to our handy Key Around Club shuttles.
A POCONO PALACE EXCLUSIVE: SNOWMOBILING IN THE POCONOS
For those of you who don't already know, Pocono Palace Resort rests along the edge of the breathtaking Delaware Water Gap. This region is widely known for its towering hillsides, winding roads, and peaceful countrysides. In the heart of winter, the birches, dogwoods, and eastern hemlocks are covered in fresh snow. The valley itself—where you'll have the opportunity to go snowmobiling in the Poconos—is typically gleaming white, especially when preceded by a picturesque hoarfrost.

For all of you couples out there that are searching for "snowmobiling near me," look no further than the rolling hills alongside Pocono Palace Resort. One of our charismatic winter sports CXOs (Chief eXcitement Officers) lead groups of six to eight riders into the pristine wilderness for approximately 15 minutes at a time. No two rides are alike, as the CXOs fully understand that many guests prefer to join multiple excursions in a row (much like a roller coaster).
3 ROMANTIC GETAWAYS IN PA: COVE HAVEN
Believe it or not, the month of December is among our most popular wedding seasons! So, don't hesitate to browse through our wedding, elopement, and honeymoon packages on our website.
As you might imagine, many couples choose to spend their winter afternoons sipping on hot cocoa, soaking inside a Champagne Tower Whirlpool, and snuggling on a horse-drawn carriage ride. To learn more about the possibility of skiing, snowshoeing, and snowmobiling in the Poconos with your sweetheart, please give our concierge a call today at 1-800-432-9932.