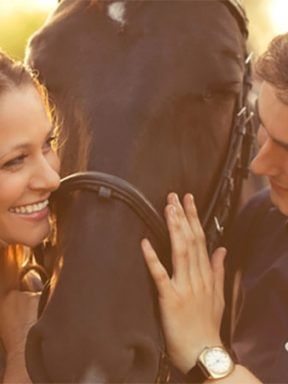 Romantic Horseback Riding in the Poconos
Published On 'October 14
Cove Pocono Resorts has been one of the premier romantic getaways in North America since 1958, thanks to our tantalizing all-inclusive packages, fine dining, live entertainment, Champagne Tower Whirlpools, and, of course, the exclusive Key Around Club. But we urge future guests to explore the Pocono Mountains in a variety of ways, including couples horseback riding. For those of you who've never climbed aboard a majestic, well-trained horse in this gorgeous region, horseback riding in the Poconos is an experience unlike any other.
HORSEBACK RIDING IN THE POCONOS NEAR COVE HAVEN
To ensure that your upcoming escape to Lake Wallenpaupack is nothing short of flawless, we've compiled three of our favorite nearby stables. If you were to search for "riding stables near me" this winter, you'd likely stumble upon each of these local businesses. Although horseback riding in the Poconos is undeniably exciting, romantic, and scenic, not a lot of couples feel comfortable atop a horse. Luckily for you and your sweetheart, all three of these stables have a fleet of well-trained horses and a team of talented equestrians. And don't forget to ask about exclusive discounts at each location—they treat our guests with extra care!

TRIPLE W RIDING STABLE
Location: 291 Beechnut Drive, Honesdale, PA
Price range: call for pricing (570-226-2620)
Tour length: 1-2 hours
Closest resort: Cove Haven Resort, 12 miles
Why choose Triple W? The folks up north at Triple W Riding Stable have been guiding couples through the dense forestry and sprawling countryside for decades. The highlight of Triple W's two-hour scenic trail ride is the mountaintop overlook. Your group will leisurely gallop through wooded forests and open fields en route to one of the highest elevations in the Pocono Mountains—the valley views are astonishing!

MOUNTAIN CREEK RIDING STABLES
Location: 6190 Paradise Valley Road, Cresco, PA
Price range: $20- $75
Tour length: 45-60 minutes
Closest resort: Paradise Stream Resort, 0.1 mile
Why choose Mountain Creek? The easy answer is that Mountain Creek Riding Stables is located just 450 feet from Paradise Steam Resort's driveway. Their five-star reputation and unmatched customer reviews tell the story, but we also love the fact that they offer one-hour private tours for just $75 per person. Lovebirds can enjoy each other's company atop a beautiful, attentive horse without a crowd of strangers removing the romantic ambiance. Each trip meanders along serene streams (including our very own Paradise Creek), towering forestry, and blossoming flora.

HAPPY TRAILS STABLES
Location: 648 Honesdale Road, Waymart, PA
Price range: call for pricing (570-488-6996)
Closest resort: Cove Haven Resort, 18 miles
Why choose Happy Trails? If you and your spouse are searching for especially secluded horseback riding in the Poconos, we recommend venturing north to Happy Trails Stables. Their trail rides amble along the vibrant countryside and into undisturbed woodlands. Many vantage points in the open fields provide panoramic views of the faraway mountains topped with wind turbines. Curious wildlife often trots through these fields, forests, and backcountry ponds.

AN UNFORGETTABLE COUPLES GETAWAY IN PA
We highly recommend that you combine an hour or two of horseback riding in the Poconos with several of our complimentary on-site activities, such as bicycling, racquetball, and snowmobiling. And don't forget to read about our fine dining, newly-updated suites, and nearby golf courses before your arrival. To learn more about our Jacuzzi suites, all-inclusive honeymoon packages, and Poconos horseback riding packages, please give us a call today at 800-432-9932.