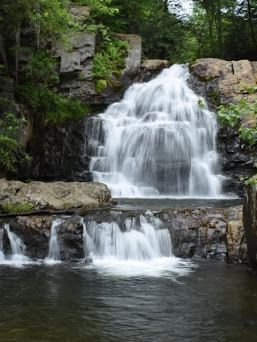 Enjoy a Spring Getaway in the Poconos
Published On 'January 12
Spring is the perfect time to take a getaway to the Poconos. This picturesque region of Pennslyvania is home to breathtaking natural beauty, a plethora of outdoor activities, charming small towns, and romantic resorts. It's the ideal place for a spring vacation.
At Cove Pocono Resorts, we believe everyone should experience a memorable vacation to the Poconos in spring. The spring season is one of the best times to visit the Pocono Mountains. Here's why you should enjoy a spring getaway to the Poconos.
1. Pleasant Weather
During the spring season, the Poconos start to come alive once more. As the snow starts to melt, flowers bloom, and waterfalls rage. This rebirth is refreshing to see and turns the Poconos into a scenic spot. In March and April, high temperatures in the Poconos typically are in the 40s and 50s. While these temperatures aren't hot, they are certainly warm enough to enjoy spending time outdoors.
2. Spring Activities for Everyone
Spring in the Poconos has something to offer every type of traveler. While outdoor recreation like hiking, biking, canoeing, and kayaking are all incredibly popular, there's plenty more to enjoy as well. The Poconos have a thriving craft brewery and winery scene, lots of shopping, tasty restaurants, historical sites, museums, and more. No matter your interests, the Poconos has you covered.
3. Fewer Crowds
If you're looking for a peaceful experience in the Poconos, spring is a phenomenal time to visit. In the summer months, warm weather and time off school draw many visitors to the region, while in winter, skiing is a huge pull. Following ski season, the crowds ease up. With fewer people around, you can enjoy a more relaxing and peaceful trip to the Poconos while still enjoying the area's many attractions.
Enjoy a Romantic Spring Trip to the Poconos
Spring in the Poconos is a lovely time to enjoy all that this region has to offer. If you need a place to stay during your trip, consider one of our couples resorts in the Poconos. Our resorts have everything you need for a relaxing and romantic getaway to the Poconos, including exciting activities, fabulous food and drink, live entertainment, and more. Best of all, our resorts are adults-only, so you can count on a kid-free stay.

We would love to host you at Cove Haven in Lakeville, Pocono Palace in East Stroudsburg, or Paradise Stream in Mount Pocono. You can book your accommodations online or call 888-963-3048 to learn more about our Poconos properties.