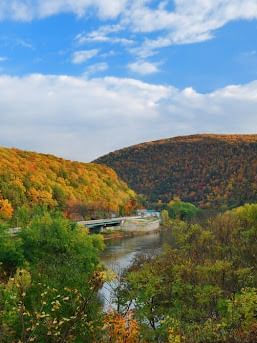 5 Things to Do in East Stroudsburg
Published On 'January 24
The Poconos region of Pennslyvania has long attracted visitors looking to immerse themselves in a romantic and naturally stunning environment. One of the top destinations in the Poconos is East Stroudsburg, a small town that offers a variety of activities and attractions for visitors.
If you're considering taking a vacation to East Stroudsburg, you're in luck because the team at Cove Pocono Resorts is here to provide you with local insights and recommendations. One of our three adults-only resorts in the Poconos, Pocono Palace, is located in East Stroudsburg, so we have a lot of information to share with you. Here's a look at five exciting things to do in East Stroudsburg.
The Best Things to Do in East Stroudsburg
There's something for everyone to enjoy in East Stroudsburg. Though the town is small in size, there are still plenty of activities and attractions to keep you entertained. These are some of our favorites.
Visit the Delaware Water Gap
If you and your partner love spending time outdoors, a stop at the Delaware Water Gap is essential during your trip to East Stroudsburg. Here, you'll have 40 miles along the Delaware River to explore a stunning outdoor setting. Whether you enjoy hiking, canoeing, kayaking, or birding, you'll love immersing yourself in the undisturbed nature of the Delaware Water Gap.
Catch a Show at Sherman Theater
Located in neighboring Stroudsburg, Sherman Theater is a historic theater built in the 1920s. Today, this historic theater still hosts an abundance of concerts, comedy shows, and other events. Take a look at the events happening during your vacation to East Stroudsburg and catch an entertaining show.
Learn History & Culture at the Pocono Indian Museum
Did you know that human history in the Poconos can be traced back to 10,500 BC? You can learn about that and so much more when you visit the Pocono Indian Museum. Visiting the Pocono Indian Museum is one of the best things to do in East Stroudsburg; the museum is filled with interesting exhibits and artifacts that shed some light on the early people of the Poconos.
Solve an Escape Room
Stroudsburg is home to Klues Escape Room, one of the top escape rooms in the Poconos. At Klues, you and your partner will have to work together to solve a series of Klues in order to "escape" the room. Klues offers four unique escape rooms to choose from, each with a different theme, making repeat visits rewarding.
Enjoy a Romantic Stay at Pocono Palace Resort
If you're looking for a place to stay in East Stroudsburg, Pocono Palace Resort has you covered. This couples resort is where romance flourishes in the Poconos. We offer a wide range of on-site activities at the resort, live entertainment, delicious dining options, sexy suites, and more. Plus, we're located near the best things to do in East Stroudsburg.

Pocono Palace Resort is the perfect home base for your vacation to East Stroudsburg and the Poconos. To stay with us, please book online or call 888-963-3048 to speak with a reservationist.