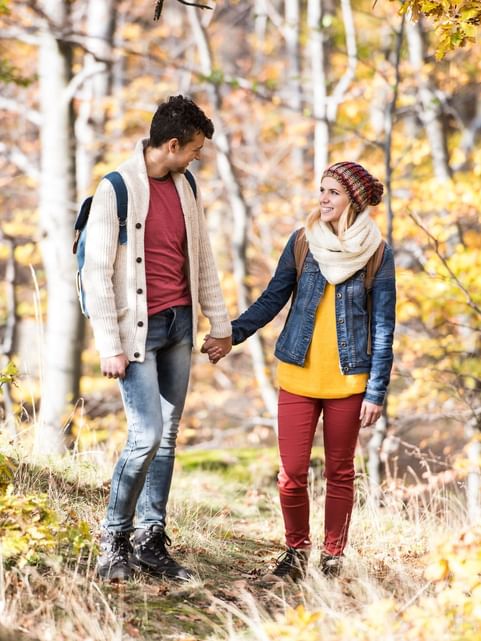 Gifts for Travel Lovers: A Romantic Trip to the Poconos
Published On 'October 14
GIFTS FOR TRAVEL LOVERS: A ROMANTIC TRIP TO THE POCONOS
Since the easing of COVID restrictions, travel has been on the rise. After being largely cooped up, many are making up for lost time and exploring new places. With an uptick in travel lovers and the holiday season quickly approaching, more and more people are wondering what gifts they should get the travel enthusiasts in their life.
If that sounds like you, the team at Cove Pocono Resorts has you covered. If your partner is one of the travel lovers in your life, a trip together is one of the best gifts you can give them. Travel lovers will love adventuring in a new destination, and you, the lover of a travel lover, will enjoy spending time with them; this gift is a win-win.
We highly recommend the Poconos as a destination because its romantic setting makes it perfect for traveling lovers. Read on to learn why a vacation to the Poconos is the ultimate gift for travel lovers.
YEAR-ROUND BEAUTY
The Pocono Mountains are stunningly beautiful year-round, so no matter when you're visiting, you're in for an adventure of a lifetime. Planning your trip to the Poconos around your partner's favorite activities will help you decide the best time to visit. Regardless of when you visit, the breathtaking mountain views and dense forests will provide you with all of the scenery you need for a memorable trip.
ATTRACTIONS & ACTIVITIES FOR EVERY INTEREST
The Poconos genuinely have something for everyone. Your travel lover certainly has other interests; whether that's exploring nature, learning about history, sipping local craft brews, or thrill-seeking, the Poconos have you covered. Plus, if you stay at one of our adults-only resorts in the Poconos, we also offer exciting on-site activities. In short, your partner will never get bored with this special gift.
ROMANCE
So your partner is a travel lover, and together you're traveling lovers, so for your gift of a vacation, you should pick a place that has romance in spades. The Poconos certainly fit that description; there's a reason why so many honeymooners visit the area. With cascading waterfalls, picturesque mountain views, and lush forests, the Poconos' setting is just right for sparking some romance.
GIVE THE BEST GIFT EVER THIS HOLIDAY SEASON
Let's face it, finding gifts that are perfect for travel lovers are hard to come by, but a trip is a guaranteed hit. We hope you consider staying at one of our couples resorts in the Poconos; we offer romantic accommodations, live entertainment, fabulous food and drink options, and so much more. For more information or to book, please call 888-963-3048 or make reservations online.