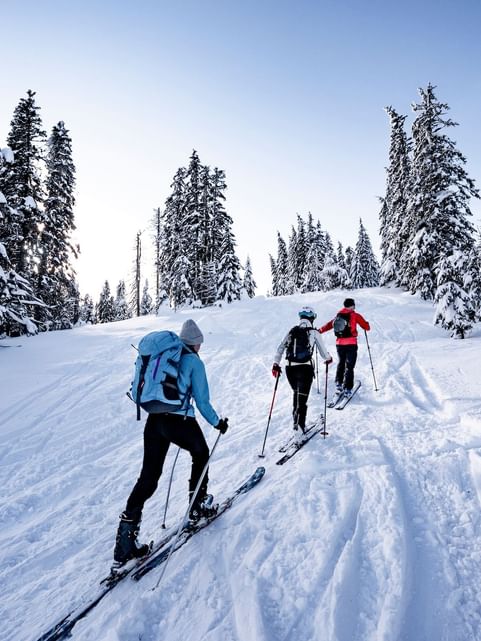 4 Amazing Activities to Enjoy in the Poconos During Winter
Published On 'October 25
4 AMAZING ACTIVITIES TO ENJOY IN THE POCONOS DURING WINTER
If you're looking for a destination for an unforgettable winter getaway, you can't go wrong with the Poconos. When the weather begins to cool and a blanket of snow covers the ground, the Poconos become a picture-perfect winter wonderland waiting to be explored.
On your trip to the Poconos, there is an abundance of winter activities for you to enjoy. The team at Cove Pocono Resorts is here to walk you through the best winter activities the Poconos have to offer. No matter your interests, one of these fantastic activities is sure to fit your fancy and be a highlight of your winter getaway to the Poconos.
SKIING
With the area's mountainous terrain, skiing is undoubtedly one of the top winter activities in the Poconos. There is no shortage of places to hit the slopes, including the famous Camelback Mountain. You can also ski at Pocono Palace, our resort in East Stroudsburg, where cross-country skiing is free for guests at all of our romantic resorts.
Tubing
If you don't ski but want to slide down the slopes, try tubing. Tubing is a more leisurely activity than skiing, as you'll be seated as you ride downhill with your loved one on a thrilling journey through the snow. Many skiing destinations in the Poconos offer tubing, but this exciting activity is available for all of our guests at Cove Haven in Lakeville.
SNOWSHOEING
Another way to immerse yourself in the Poconos' snow-covered landscape is by snowshoeing. The great thing about snowshoeing is that it is a straightforward activity to catch on to, so even if you've never snowshoed before, you should be getting around like a seasoned veteran in no time. Its slow pace also gives you plenty of time to take in the marvelous winter setting. You can enjoy snowshoeing in the Poconos at all three of our resorts.
SNOWMOBILING
If you have a need for speed, there's no better activity in the Poconos than snowmobiling. On your snowmobiling adventure, you'll zip through the snow on a high-speed ride through the beautiful winter setting. While you can rent snowmobiles, you can also ride one at Pocono Palace.
PLAN A WONDERFUL WINTER GETAWAY TO THE POCONOS
You can experience all of these exciting winter activities when you stay with Cove Pocono Resorts. In addition to our winter offerings, we also offer classic activities such as bowling, billiards, and more. We also offer live entertainment like bands, comedians, and magicians. In short, our romantic resorts in the Poconos are your all-in-one entertainment destinations.
We would love to host your winter vacation. To stay with us, please book online or call 888-963-3048 to speak with a reservationist.