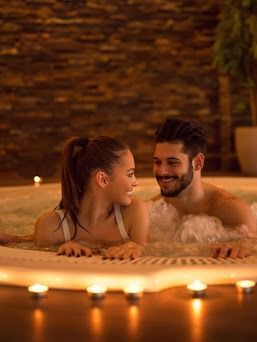 How to Pick the Perfect Romantic Resort in the Poconos
Published On 'September 05
How to Pick the Perfect Romantic Resort in the Poconos
For decades, couples have flocked to the Poconos to enjoy the area's majestic scenery and connect with each other at one of the many romantic resorts. With so many couples resorts in the Pocono Mountains, how can you determine which is most suitable for you and your partner? The team at Cove Pocono Resorts is here to help. With three adults-only resorts in the Poconos, we know a thing or two about finding the perfect resort for a couple.
We've had countless couples create lasting memories in our resorts. Here are some tips to help you choose the ideal destination for your romantic escape.
1. Identify Your Preferences
The first step in selecting your Poconos romantic resort is to determine what you and your partner desire most from your getaway. Do you long for a serene lakeside retreat, a fantasy-filled stay in a romantic castle, or a secluded hideaway in the woods? Each resort offers a distinct experience that caters to various preferences. For example, here's a look at some of the differences between our three romantic resorts: Cove Haven, Pocono Palace, and Paradise Stream.
2. Research Must-Visit Attractions
Many couples choose to spend the entirety of their romantic getaway to the Poconos at the resort. However, if you plan on leaving our grounds and checking out the numerous attractions the Poconos offer, you should do some research beforehand to identify which appeals most to you. The Poconos is a large region, so depending on what you want to see or do, you might prefer to pick one resort over another based on location.
3. Compare Amenities
Not all romantic resorts in the Poconos include the same amenities, so research what each resort offers before making your reservation. Our resorts offer iconic amenities such as heart-shaped tubs, champagne tower whirlpools, private pools, fireplaces, balconies, and more. We also offer on-site dining and entertainment options. There are also all-inclusive packages to consider. We offer all-inclusive amenities at our resorts, but not every resort in the Poconos offers.
One of the most unique features of Cove Pocono Resorts is the Key Around Club. When you stay at one of our resorts, you gain access to the activities at all three resorts. That's not something you can expect from other resorts in the area.
Book a Romantic Getaway to the Poconos Today
Picking the perfect romantic resort in the Poconos is all about aligning your preferences, desires, and expectations with the offerings of each resort. Whether you choose Cove Haven, Pocono Palace, or Paradise Stream, you're in for an unforgettable romantic experience. And don't forget, with the Key Around Club, you can explore the best of all three resorts during your stay.
Start planning your dreamy Poconos getaway today! To book your stay, please get in touch with us at 800-233-4141 or make a reservation online.