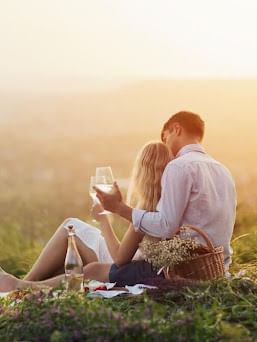 Plan a Romantic Picnic to the Top Spots in the Poconos
Published On 'September 15
Plan a Romantic Picnic to the Top Spots in the Poconos
There's something special about sharing an intimate meal with a loved one in a scenic location. The idea of picnics dates back to the 1600s, but it's a date that still feels fresh today. The Poconos is the perfect place to plan a picnic due to the beautiful scenery. At Cove Pocono Resorts, while we offer on-site dining options at all three of our adults-only resorts in the Poconos, we still admire a good picnic. That's why we've put together a list of some of our favorite picnic spots near our resorts in the Poconos.
Picnicking Spots in the Poconos
Picnics offer a wonderful way for couples to enjoy the outdoors, connect with nature, and spend quality time together. In the Poconos, there are countless fantastic picnic spots, but these spots are a few of the best.
Promised Land State Park
Located about a 30-minute drive from our original couples resort, Cove Haven, Promised Land State Park offers an idyllic setting for a lakeside picnic. Spread your blanket on the lush green grass by the serene Lower Lake and enjoy the tranquility of the water, the gentle rustling of leaves, and the songs of the birds. If you're looking for a pre or post-picnic activity, paddling the lake offers scenic outdoor fun.
Bushkill Falls
Explore the "Niagara of Pennsylvania" and enjoy a picnic-style meal at Bushkill Falls. Located a short drive from Pocono Palace, Bushkill Falls is an outdoor wonderland complete with a series of eight enchanting waterfalls. Follow the scenic trails to various waterfalls, and you'll find several perfect picnic spots along the way. The sound of cascading water creates an unparalleled romantic atmosphere.
Big Pocono State Park
One of Paradise Stream's closest natural gems is Big Pocono State Park. Located atop Camelback Mountain, visitors are treated to breathtaking panoramic views of the Pocono Mountains; this is known as one of the best vantage points in all of the Poconos. There are picnic tables set up, making it a fantastic spot to enjoy a meal together while savoring the stunning vistas.
Make Your Picnic Extra Special
To make your romantic picnic even more special, consider packing a gourmet picnic basket with your favorite dishes and a bottle of wine. Don't forget to include a cozy blanket, a Bluetooth speaker for your favorite love songs, and a camera to capture the beautiful moments you'll create together.
Romantic Resorts in the Poconos
At Cove Pocono Resorts, we understand the importance of romance and intimacy in a relationship. These picnic spots near our resorts are perfect for couples looking to escape the hustle and bustle of everyday life and rekindle their love in the heart of the Poconos. To stay at one of our adults-only resorts, please book your stay online or call 800-233-4141 to speak with a reservationist. We look forward to hosting your memorable vacation to the Poconos!