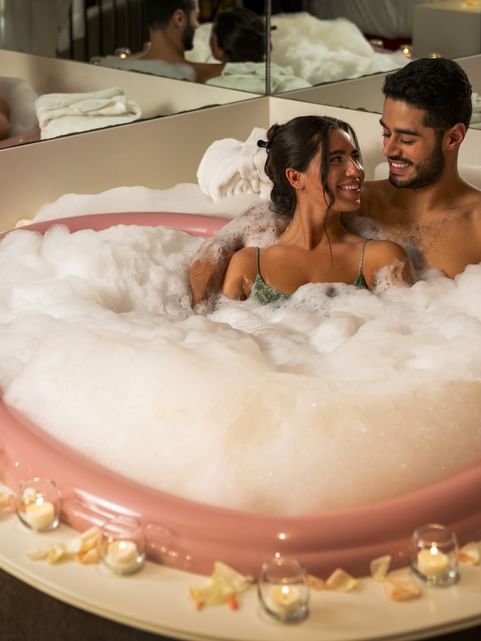 Plan a Romantic Valentine's Day Trip to the Poconos
Published On 'December 22
PLAN A ROMANTIC VALENTINE'S DAY TRIP TO THE POCONOS
Can you feel the love in the air? Valentine's Day is right around the corner, so it's best to start finalizing your plans now. You and your partner deserve a fantastic Valentine's Day, and there's no better way to celebrate the holiday than with a romantic getaway together.
The Poconos are the perfect destination for a Valentine's Day trip. In the Poconos, natural beauty is everywhere, creating an undeniably romantic setting. In addition to the area's breathtaking scenery, the Poconos are home to some of the most romantic resorts in the world. Cove Pocono Resorts offers three adults-only resorts in the Poconos, and we have some extra special plans for Valentine's Day. Here's why you should plan a romantic Valentine's Day getaway to the Poconos.
SPECTACULAR SCENERY
The Pocono Mountains are a natural wonderland where snowcapped mountains, dense forests, and glistening waters meet, creating a spectacular environment. The area is home to tons of parks and scenic drives where you can immerse yourself in the natural beauty. It really is spectacular, so if you have an interest in the outdoors, the Poconos are an ideal location for a Valentine's Day trip.
ABUNDANT ACTIVITIES
No matter your interests, you'll have no problem finding exciting activities that you and your partner will both enjoy in the Poconos. Hiking, birding, and skiing are some of the area's most popular outdoor activities, but there are also museums, breweries, wineries, escape rooms, and so much more. When you stay at one of our romantic resorts in the Poconos, you can enjoy a wide range of on-site activities.
ROMANTIC RESORTS
We built our three Poconos resorts with romance in mind; every detail has been carefully selected to create the most romantic experience possible. People travel from all over the country to experience the romantic offerings our resorts provide, and we would love it if you were next.
When you stay at any of our resorts, you can comfortably unwind with your partner, knowing there are no children around. We only cater to adults, so you can expect an experience that's sophisticated, fun, and above all else, romantic. We offer delicious dining options, sexy suites, live entertainment, and holiday events, including our Month of Love event for Valentine's Day, which spans all of February.
Make this Valentine's Day one to remember with a trip to one of our couples resorts in the Poconos. To stay in one of our resorts in the Poconos for Valentine's Day, please book online or call 888-963-3048.