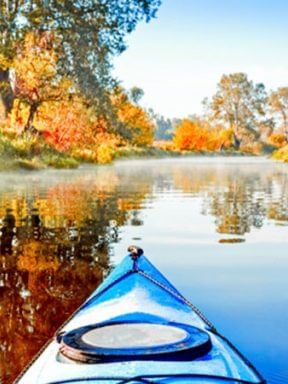 Poconos Kayaking at Cove Haven
Published On 'September 27
With summer officially in the rearview mirror, millions of couples turn their attention to the most romantic season of the year: autumn. Every fall, the Pocono Mountains transform into a vibrant meld of amber, marigold, kelly green, and crimson. This picturesque land allures couples from New York City, Philadelphia, and all across the East Coast. And one of the most romantic mid-fall activities in our region is kayaking. Nothing tops an hour or two of serene Poconos kayaking in the crisp, fresh mountain air while surrounded by vivid, eye-popping fall foliage. When you choose a passionate, uninhibited stay at Cove Pocono Resorts, you'll always be steps from quintessential Pocono adventures such as kayaking, fishing, and bicycling.
AUTUMN POCONOS KAYAKING
Couples often search for "kayaking near me" when visiting the Pocono Mountains, but you'll be happy to hear that both Cove Haven Resort and Pocono Palace Resort offer exclusive, complimentary access to a wide variety of kayaks. We provide free access to nearly a dozen adventure sports, but there's something magical about a paddling excursion when the colors are at their peak.
COVE HAVEN RESORT – LAKE WALLENPAUPACK
Poconos kayaking, especially during autumn's peak, is equally relaxing, invigorating, and playful. And luckily for you and your sweetheart, Lake Wallenpaupack provides some of the best kayaking in the Poconos. Lake Wallenpaupack spans 5,700 acres with approximately 52 miles of shoreline. Paddlers are only allowed within the cove of the lake for the safety of our guests, but, thankfully, this stretch of the lake is jaw-droppingly beautiful in autumn.
POCONO PALACE RESORT – ECHO LAKE
Whereas Lake Wallenpaupack is one of the most popular Poconos kayaking destinations, Pocono Palace Resort's private Echo Lake is a secluded hidden gem. Most couples only spend an hour or so paddling along the outer banks of this still body of water, which is enclosed by towering forestry. During the fall season, these diverse trees provide a heartwarming glow and a golden sheen on Echo Lake.
5 (MORE) ROMANTIC THINGS TO DO IN THE POCONOS THIS FALL
For those who're staying at Paradise Stream Resort, you'll have exclusive access to rowboats and pedal boats (but no kayaks). And the colors on the trees around the Lakeside Villas are quite lovely to enjoy during a quiet stroll around Lake Eden. While nothing tops an hour or two of Poconos kayaking during mid-October, we urge couples to embark on a wilderness stroll, throw a line into the lake for a monster northern pike, and play a paintball match against other couples. To ensure that your mid-fall getaway is nothing short of flawless, we've compiled five more of our favorite on-site autumn activities:
Bicycling
Croquet
Fishing
Golf driving range
Guided nature walk

ROMANTIC GETAWAYS IN PA
Yes, Cove Pocono Resorts provides couples with some of the most-scenic Poconos kayaking, fishing, and hiking adventures. But don't forget about our all-inclusive fine dining, nightly live entertainment, and tantalizing Champagne Tower Hot Tubs. Give us a call at 800-432-9932 (or visit us online) today to learn more about our all-inclusive honeymoon packages, Jacuzzi suites, and upcoming entertainers. We hope to see your smiling faces this fall!