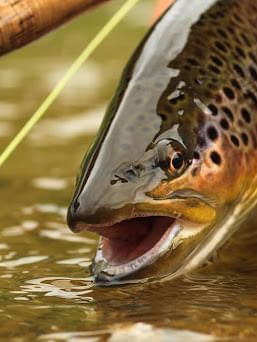 The Ultimate Guide to Trout Fishing in the Poconos
Published On 'March 17
Anglers, rejoice! Trout fishing season in the Poconos is just about here. Are you ready to take advantage? The team at Cove Pocono Resorts is here to help you maximize your next fishing trip. We offer trout fishing at two of our adults-only resorts in the Poconos and have a wealth of knowledge about fishing in the region. To help you with your next outing, we've put together a guide on trout fishing in the Poconos.
When to Go Trout Fishing in the Poconos
The best time to go trout fishing in the Poconos is during the spring when the water temperatures are cooler, and the trout are more active. In the spring, the trout begin to spawn, making them more aggressive and easier to catch. Plus, anglers get to enjoy comfortable weather for a day out on the water.
The Best Places to go Trout Fishing in the Poconos
The Poconos is home to many excellent trout fishing spots, but some rise above the rest. The Delaware River is perhaps the most well-known trout fishing location in the region. The river is known for its healthy population of wild brown and rainbow trout, making it a prime destination for fly fishing.
The Lehigh River is another popular option. Though small in size, the Lehigh River has everything trout and anglers need for a nice day out on the water. The river is stocked with brown and rainbow trout throughout the year, adding to the already significant population.
If you're new to fly fishing or want to maximize your trip, there are several companies offering guided trout fishing experiences in the Poconos. With an expert guide by your side, you'll explore some of the best trout fishing locations in the region, learn special tips and tricks, and hopefully pull in a memorable catch.
Trout Fishing at Paradise Stream & Pocono Palace
You can enjoy trout fishing at two of our romantic resorts in the Poconos: Paradise Stream in Mount Pocono and Pocono Palace in East Stroudsburg. On April 29, 2023, we celebrate spring by releasing trout at our resorts' lakes. You and your partner will love fishing in our lakes. Be on the lookout; we tag some of the fish with prizes, including a free multi-night stay in our Champagne Tower suite! If you're staying at Cove Haven, don't worry, you can still enjoy trout fishing at either of these resorts with our Key Around Club.

Trout fishing is just one of the fantastic perks of staying at one of our couples resorts in the Poconos. We offer an abundance of activities, exciting entertainment, fabulous dining, and romantic accommodations. Go trout fishing (and more) in the Poconos with us! Please make a reservation online or call 888-963-3048 to speak with a reservationist.