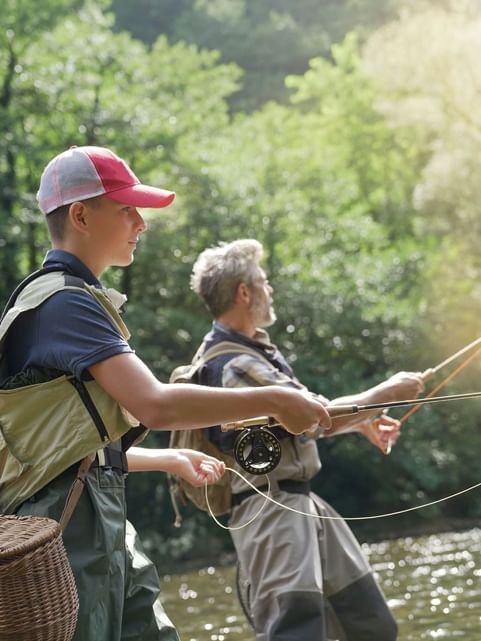 The Ultimate Guide to Fly Fishing in the Poconos
Published On 'June 27
During the spring and summer months, anglers flock to the Pocono Mountains in search of a common target: trout. The waters of the Poconos are rich with this fly fishing favorite, attracting fishing enthusiasts from all over the region.
Whether you're a fly fishing expert or a newbie, the Poconos are certainly worth adding to your fly fishing bucket list. Want to know where to get started? The team at Cove Pocono Resorts is here to help. With three adults-only resorts in the Poconos, we're experts in the region and familiar with the best fly fishing spots in the area. Read on for tips on having an unforgettable fly fishing adventure in the Poconos.
THE BEST LOCATIONS FOR FLY FISHING IN THE POCONOS
The Pocono Mountains are home to many trout-filled rivers and lakes that are perfect for fly fishing. No matter where you find yourself in the Poconos, a good fishing hole isn't far away.
DELAWARE RIVER
The Delaware River is a legendary trout fishery atop the bucket list of countless fly fishing anglers. In fact, visitors come from far and wide to get in on the action. Brown and rainbow trout are the primary targets here. April through fall is considered peak season, but summer is usually the most popular time to fish the river. This spot is no secret; you'll see plenty of other anglers during your fishing trip.
LAKE WALLENPAUPACK
Lake Wallenpaupack is one of Pennsylvania's largest reservoirs, making it a popular spot for boating, paddling, swimming, and of course, fishing. Anglers love Lake Wallenpaupack because it is stocked with fish, including brown trout. It is a premier trout fishery in the Poconos and well worth a visit. Guests at Cove Haven Resort have easy access to Lake Wallenpaupack, as our resort is located right on the shores of this big lake.
POCONO CREEK
If you're looking for a fly fishing experience in the Poconos that's a little off the beaten path, look no further than Pocono Creek. For a relatively small creek, this spot has a large population of brown trout. One of the best parts of fishing Pocono Creek is the peace and quiet that comes along with it. Unlike other fishing spots, you won't have to joust with other anglers to find an ideal location.
GUIDED FISHING TRIPS IN THE POCONOS
Do you want someone with local knowledge and fly fishing expertise to help you get the most out of your trip? The Pocono Mountains are home to many companies offering guided fly fishing trips and tours. Whether you want to plan an extended trip or an outing that lasts a few hours, a quick search and you'll find reputable companies that can help.
FUN & ROMANTIC ACCOMMODATIONS IN THE POCONOS
Cove Pocono Resorts offers three resorts for couples in the Poconos that can serve as the perfect home base for your fly fishing vacation with your partner. In addition to romantic lodging, our resorts are big on fun! We offer exciting live entertainment, delectable dining, outdoor activities, and so much more. Call us at 888-963-3048 for more information or to make a reservation.