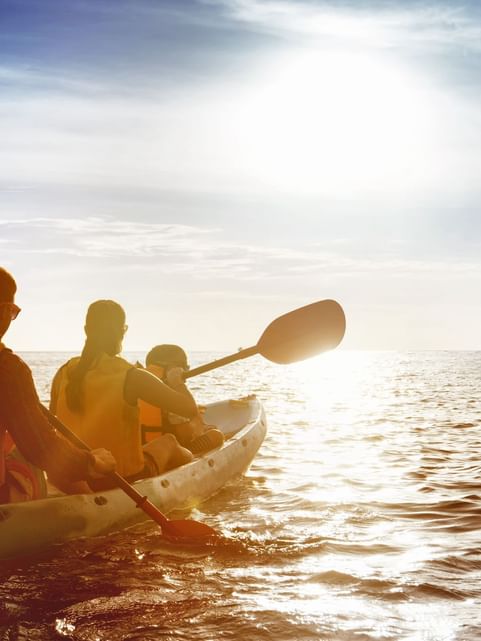 The Ultimate Guide to Kayaking the Poconos
Published On 'July 05
THE ULTIMATE GUIDE TO KAYAKING THE POCONOS
The scenic Pocono Mountains serve as a hub for all sorts of outdoor recreation. The area's many lakes and rivers make it a premier destination for paddling, including kayaking. Kayaking in the Poconos is a blast; here, paddlers enjoy gorgeous scenery and calm waters. Want to learn more about kayaking in the Poconos? The team at Cove Pocono Resort has you covered; continue reading for tips and tricks for an unforgettable kayaking experience.
WHERE TO RENT A KAYAK IN THE POCONOS
Before you embark on an exciting kayaking adventure, you'll need a kayak. Fortunately, there are companies all over the Poconos that offer kayak rentals. However, when you stay at one of our adults-only resorts in the Poconos, you won't have to rent a kayak at all. We offer kayaking at Pocono Palace, our resort in East Stroudsburg. No matter which of our resorts you're staying in, you can enjoy a fun kayaking experience for two at Pocono Palace for no charge, thanks to the Key Around Club.
THE BEST PLACES TO GO KAYAKING IN THE POCONOS
If you want to adventure beyond Pocono Palace, there are tons of great places to go kayaking in the Poconos. Here are some of our favorite spots.
LAKE WALLENPAUPACK
Cove Haven Resort is located on beautiful Lake Wallenpaupack, and this lake is a paddler's paradise. As the largest lake in Northeastern Pennslyvania, this reservoir has plenty to explore. Visitors love maneuvering the waterways on streams and canals that are perfect for kayak exploration. Lake Wallenpaupack is the ideal place for a relaxing paddle.
DELAWARE WATER GAP NATIONAL RECREATION AREA
Located just east of East Stroudsburg, the famous Delaware Water Gap attracts all sorts of boaters, including kayakers. Cutting through the Appalachian Mountains, paddlers take in rugged mountain views as well as lush forests. You can paddle along nearly 40 miles of the Delaware River, so you'll have plenty of kayaking ahead of you.
LEHIGH GORGE STATE PARK
If you're an experienced paddler looking for a challenge, look no further than Lehigh Gorge State Park. The Lehigh River contains class II and class III whitewater rapids for you to take on, though we strongly recommend going with a guide or tour company if you aren't an experienced paddler. The Lehigh River is one of the Poconos' best kayaking spots for wet and wild whitewater fun.
YOUR NEXT GREAT KAYAKING ADVENTURE IS IN THE POCONOS
With an abundance of fantastic kayaking spots, rental companies, and tour guides, the Poconos is the ideal destination for adventure seekers. If you need a place to stay during your journey, consider Cove Pocono Resorts, our romantic resorts are a great place to recharge your batteries and romance. In addition to kayaking, we also offer a variety of on-site activities, live entertainment, and dining options for you to enjoy. To stay with us, call us at 888-963-3048 or check availability online.