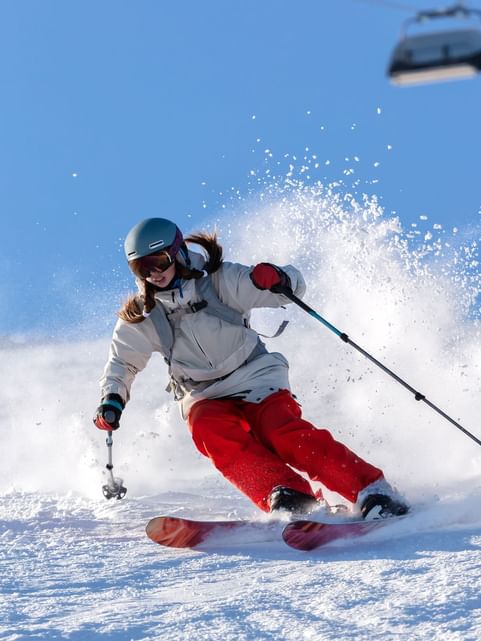 3 Reasons Why Winter Is the Best Time to Visit the Poconos
Published On 'November 16
3 REASONS WHY WINTER IS THE BEST TIME TO VISIT THE POCONOS
For some, winter means trying to escape the cold and snow. However, if you're someone who embraces everything this snowy season is about, there's no better time to visit the Poconos. Winter is truly one of the best times to visit the Poconos, and it's not hard to see why.
Nestled in some of the best communities in the Poconos are the Cove Pocono Resorts. Our romantic resorts are the ideal home base for anyone looking to experience the magic of this winter. There are countless reasons to visit the Poconos in the winter, but here are three of the top ones.
WORLD-CLASS SKIING
One of the biggest adventures that draw visitors to the Poconos year after year is its phenomenal skiing. If you're looking to go flying down the side of a mountain, make your way to Montage Mountain to try your hand at their 27 trails that range from beginner to expert.
For a more laid-back skiing experience, go cross-country skiing at Pocono Palace Resort. Our East Stroudsburg location offers free cross-country skiing to guests at all three of our resorts.
MEMORABLE SNOWY ADVENTURES
On average, the Poconos get about 50 inches of snow a year. All this powder means the outdoor adventures are endless, including right at our Pennsylvania resorts. In addition to cross-country skiing, Pocono Palace also provides guests with snowshoeing, snowmobiling, and snow tubing opportunities.
If you're looking to get out and explore more of the winter wonderland, we recommend visiting nearby state parks like Hickory Run State Park or Tobyhanna State Park. Both spots are known for their ice skating rinks and snowmobiling trails.
EXTRA SPECIAL HOLIDAY SEASON
With the winter and holiday seasons coinciding, a winter vacation can also be a holiday escape. When planning your Poconos getaway, check out our incredible entertainment lineup for shows and events that'll get you into the holiday spirit. These festivities make an already special time of year more memorable.
ENJOY A SNOWY POCONOS ESCAPE
See for yourself why winter is the best time to visit the Poconos by reserving your stay with Cove Pocono Resorts. Our three fantastic locations are some of the top romantic destination resorts and hotels in this region for a reason. Now is the perfect time to plan a winter vacation with the one you love most.
Browse our resorts and book your stay online today. To speak with a reservationist, call 888-963-3048.