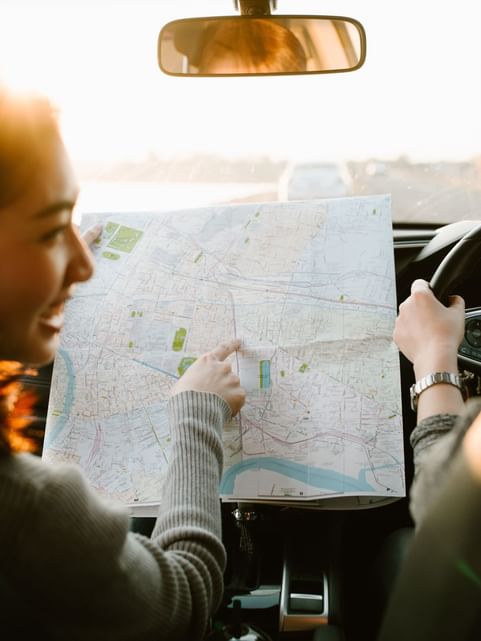 Plan a Memorable Holiday Road Trip to the Poconos
Published On 'November 08
WHO SAYS YOU HAVE TO STAY HOME FOR THE HOLIDAYS?
If you're looking to make this year's festivities extra memorable, plan a holiday road trip to the Poconos. While this region is known for four seasons of adventure, it comes alive when the snow starts to fall
Reconnect with the one you love most this holiday season by booking your getaway with Cove Pocono Resorts. Our resort makes the perfect home base for any couple looking to add a bit of romance to their plans. However, you don't have to wait until you check in for the fun to begin. No matter how far of a drive you have, going on a road trip is an adventurous way to get to our Poconos resort. Make your journey a success by taking the time to read these tips.
INSPECT YOUR CAR
Choosing to road trip to the resort means you are going to be putting some miles on your car. It's important you check and make sure everything is ready for the journey. This includes checking your tire pressure, testing your lights, packing your emergency kit, and testing your brakes.
MAP OUT YOUR ROUTE
Whether your drive is only a couple of hours or a couple of days, there is always something to discover. This includes attractions near our Poconos resorts. Before completing your journey, stop by some of these landmarks.
Mapping out your drive ahead of time helps you know what activities or attractions you might discover. Of course, you want to give yourself plenty of time to explore the sights you stumble upon along the way.
CREATE A DETAILED PACKING LIST
A road trip means you not only need a list of things you'll need once you reach your destination but also things for the ride. You'll want to make sure you have things like a phone mount, if necessary, and chargers. Make your drive as comfortable as possible by packing travel pillows and blankets. Reduce the number of extra stops by packing go-to road trip snacks that are easy to eat and don't create a mess.
RESERVE YOUR HOLIDAY HOME AWAY FROM HOME
There's no better time to start planning your Poconos holiday road trip than today. One key step in planning your getaway is reserving your stay with Cove Pocono Resorts. Our collection of three resorts brings you the best that this region has to offer while providing you with a romantic escape.
Because every resort is unique, you can find the one that checks all your boxes best. Each comes with incredible amenities like on-site dining and phenomenal activities. Browse our accommodations and resorts online, or call 888-963-3048 to learn more about our Poconos properties.