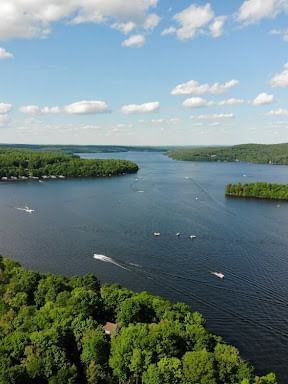 5 Exciting Things to Do in Lakeville
Published On 'February 17
If you're looking for a place perfect for a romantic getaway in the Poconos, look no further than Lakeville. At Cove Pocono Resorts, we're quite fond of Lakeville; in fact, we built our first adults-only resort, Cove Haven, on the shores of Lake Wallenpaupack in Lakeville. With over 60 years of experience in the area, we're happy to help travelers plan the perfect vacation. We're highlighting the five best things to do in Lakeville on a romantic trip.
The Best Things to Do in Lakeville
For a small town of just under 1,000 residents, Lakeville sure has much to offer travelers looking to experience the Poconos. From outdoor recreation to fabulous resorts, there are plenty of things to do in Lakeville.
1. Go Boating on Lake Wallenpaupack
The Poconos are a haven for outdoor enthusiasts, and one of the top attractions for outdoor recreation is Lake Wallenpaupack. At 13 miles long, Lake Wallenpaupack has plenty to explore. Rent a boat and go exploring! There are plenty of rental companies that will let you captain a rental boat. However, if you're staying at Cove Haven Resort, you can enjoy a pedal boat ride on Lake Wallenpaupack as part of our on-site activities.
2. Explore Lacawac Sanctuary
About four miles away from Cove Haven Resort lies Lacawac Sanctuary, a place undisturbed by development. Lake Lacawac is the sanctuary's crown jewel, a 52-acre glacial lake. There are nine miles of hiking trails at Lacawac Sanctuary; take some time to trek through this pristine piece of wilderness on a tranquil hike through nature.
3. Go Horseback Riding
Experience the wind in your hair as you traverse through the Poconos wilderness on a horseback riding adventure with Why-Not Riding Stable. This family-run business offers horseback riding excursions for riders of all experience levels. Whether you've never ridden a horse before or have been riding your whole life, you're in for a romantic ride out on the trail.
4. Visit Claws 'N' Paws Wild Animal Park
If you or your partner is an animal lover, a visit to Claws 'N' Paws Wild Animal Park is a great way to spend the day. Claws 'N' Paws displays a large variety of animals on exhibit, including giraffes, tigers, lions, monkeys, wolves, and more. They also offer a petting zoo and engaging activities where guests can feed some of the animals.
5. Stay at Cove Haven Resort
Staying at Cove Haven Resort is undoubtedly one of the best things to do on vacation in Lakeville. For more than 60 years, lovers have flocked to Cove Haven for a romantic getaway. Nestled on the shores of Lake Wallenpaupack, Cove Haven offers romance in abundance. From the beautiful setting to the luxurious suites and even our on-site dining options, Cove Haven is the perfect place for an intimate stay in the Poconos.

When you stay at Cove Haven Resort, you are getting a Poconos experience designed with adults in mind. This adults-only resort offers plenty of on-site activities and live entertainment to make new memories with your partner. Enjoy your stay in the Poconos the Cove Haven way; please book online or call 888-963-3048 for more information.