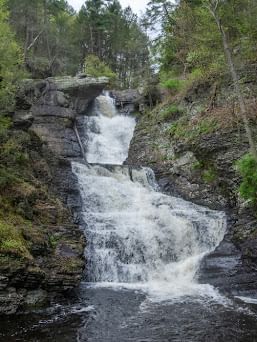 Hike to a Beautiful Waterfall in the Poconos
Published On 'February 27
Few things are as naturally beautiful as a raging waterfall. The Poconos region is home to many impressive waterfalls, and visitors travel from all over to get a glimpse. However, with so many waterfalls, most travelers have to pick and choose which waterfalls to explore. The team at Cove Pocono Resorts is here to help; we've compiled a guide for the adventurous spirits who wish to take in the beauty of a waterfall in the Poconos on a hike. Continue reading for a few of our favorite waterfall hikes in the Poconos.
Hike to a Stunning Waterfall on One of These Poconos Trails
Whether you're looking for a quick and easy hike with some beautiful scenery or a long trek with a rewarding finish, these waterfall trails in the Poconos have you covered.
Bushkill Falls
If you want to see a lot of waterfalls in a short period of time, look no further than Bushkill Falls. Known as the "Niagara of Pennsylvania," Bushkill Falls is a series of eight waterfalls in the Poconos and is undoubtedly one of the state's top attractions. There are several hiking trails that wind through the park, ranging from easy to moderate difficulty, so there's something for everyone.
Shohola Falls
Shohola Falls is a picturesque waterfall located in Shohola Township, about a 30-minute drive from Cove Haven Resort. To call the venture to the falls a hike is a stretch; it is more like a short, easy walk. Still, the Shohola Falls is well worth a visit; the falls are small but scenic and offer a peaceful place to bask in nature's undisturbed glory.
Dingmans Falls
Located in the Delaware Water Gap National Recreation Area, Dingmans Falls is another must-see waterfall in the Poconos. The waterfall drops 130 feet, giving Dingmans Falls the title of the second-largest waterfall in Pennslyvania. The trail to the falls is a 1.4-mile round-trip hike on a flat boardwalk. Keep an eye out for Silverthread Falls, which can be seen shortly after beginning the hike.
Raymondskill Falls
If you're checking out Dingmans Falls at the Delaware Water Gap, you might as well add a stop at Raymondskill Falls to your itinerary. At 178 feet, Raymond Skill Falls is the largest waterfall in Pennsylvania. While the falls are big, the hike to get to them is quite short, just a 0.3 mile out and back trail. However, the trail is pretty steep, so keep that in mind.
Resorts Near the Best Waterfall Hikes in the Poconos
After an incredible hike to one of the Poconos' magnificent waterfalls, return to your accommodations from Cove Pocono Resorts. Our three adults-only resorts in the Poconos will put you near some of the best waterfalls in the area and provide plenty of on-site amenities to keep you entertained. From exciting activities to live entertainment, there's never a dull moment at our resorts. You can book your accommodations online or call 888-963-3048 to learn more about our Poconos properties.