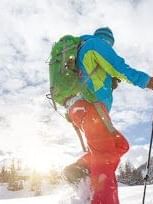 5 Romantic Things to Do in the Poconos in Winter
Published On 'October 26
When the snow starts to fall, the Poconos quickly transforms into a winter wonderland. As such, if you're looking for a romantic winter getaway, the Poconos should be at the top of your list. There are so many romantic things to do here that it can be hard to decide.
Cove Pocono Resorts has three couples resorts in the Poconos, which are designed for recharging romances. To help you decide what to do on your romantic trip to the Poconos, we've compiled a list of the five most romantic things to do on a winter vacation to the Poconos.
ICE SKATING
Rent a pair of skates and hit the ice with your partner. The Poconos have plenty of outdoor skating areas from which to choose. However, our favorites are the state parks. Enjoy a romantic skate with your loved one at Promised Land, Hickory Run, or Tobyhanna State Parks. You'll be immersed in the natural beauty the Poconos have to offer in the wintertime as you skate alongside your partner.
SNOWMOBILING
Carve up the snow on a thrilling snowmobile ride. Hold tight to your partner as you zip through the snow and feel the crisp mountain air on your face. It's an exhilarating experience that is sure to get your heart racing. Cove Pocono Resorts offers snowmobiling at Poconos Palace. However, with the Key Around Club, guests at all of our resorts can enjoy this stirring winter activity.
SKIING
Whether you and your partner are interested in downhill or cross-country skiing, you'll find what you're looking for in the Poconos. The Pocono Mountains are filled with excellent skiing opportunities, and skiing can be very romantic. You and your partner will take in the snow-covered landscape as you hit the slopes together. We offer cross-country skiing at our Pocono Palace Resort.
SNOWSHOEING
Explore the beautiful winter landscapes of the Poconos on a snowshoeing adventure. Side by side, you and your partner will trudge through powdery snow at your own pace and enjoy some time out in nature. This unique activity is great for couples and an experience you won't forget when your return home. We offer snowshoeing at all of our resorts.
SNOW TUBING
If you aren't a skier but would like to hit the slopes, snow tubing is your best bet. You and your partner will enjoy a breath of fresh air as you fly down the slopes on tubes. This essential winter activity is incredibly fun, and with your partner by your side, it will feel romantic too. Afterward, warm up with a hot beverage and curl up next to a cozy fire. You can enjoy snow tubing at our Cove Haven Resort.
ENJOY A ROMANTIC GETAWAY TO THE POCONOS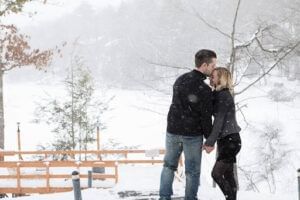 As you've read, there's no shortage of romantic winter romantic things to do in the Poconos. There's no better place for romance in the Poconos than our three adults-only resorts. Away from stress and worry, you and your loved one will get to focus on what's important: each other. To book your stay with us, check availability online or give us a call at 800-233-4141.