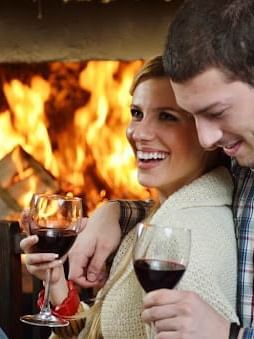 5 Ways to Make the Holidays More Romantic
Published On 'October 30
The holiday season is a time of togetherness and love, making it the perfect opportunity to add a touch of romance to your festivities. At Cove Pocono Resorts, we specialize in creating romantic getaways in the Poconos. We've been helping couples connect on a deeper level for over half a century, and we want to help you infuse more love and passion into your holidays. Here are five delightful ways to make your holidays more memorable and romantic.
1. Spend Some Time Cuddling by the Fire
There's something undeniably romantic about cuddling up by a crackling fire during the chilly winter months. Whether you have a fireplace at home or choose to visit one of our resorts where you can enjoy a wood-burning fire in your room, the ambiance created by a warm fire and the soft glow of the flames can set the stage for intimate moments. Fires awaken the senses, kindling the flames of your love.
2. Stroll Among the Holiday Lights
Take a leisurely walk through a beautifully decorated neighborhood or visit local holiday light displays. Holding hands, you can enjoy the twinkling lights, festive decorations, and the magical holiday atmosphere. It's an ideal opportunity to share the joy and beauty of the season while creating memorable moments.
3. Create a Fantastic Holiday Meal
Cooking a meal together can be a wonderful bonding experience. Choose a new recipe, work as a team in the kitchen, and enjoy the fruits of your labor. Whether you decide to prepare a traditional holiday feast or something exotic and unexpected, it's all about the journey, laughter, and shared moments in the kitchen. To make this experience even more romantic, use candlelight to set the ambiance when enjoying the meal.
4. Explore the Winter Wonderland
Embrace the season by enjoying the beauty of winter by enjoying outdoor activities. Whether hiking, cross-country skiing, snowshoeing, or embarking on a sleigh ride, there's romance in spades to be found in the great outdoors during the holiday season. Feel the soft crunch of snow under your feet as you venture off the beaten path, discovering hidden pockets of tranquility and winter beauty.
5. A Romantic Holiday Getaway
Turn your holiday romance up a notch with an intimate getaway. There are tons of great destinations for a holiday trip, but you can't go wrong with the Poconos. If you're considering a holiday getaway to the Poconos, look no further than Cove Pocono Resorts. Our three couples resorts in the Poconos, Cove Haven, Paradise Stream, and Pocono Palace are the epitome of romance. Each resort offers experiences created with romance in mind, like heart-shaped tubs, private pools, romantic dining, and countless activities designed for couples.
To spend a romantic holiday season with us, make a reservation online or call 800-233-4141 for more information. Wherever your travels take you this season, we wish you a very happy and romantic holiday season.