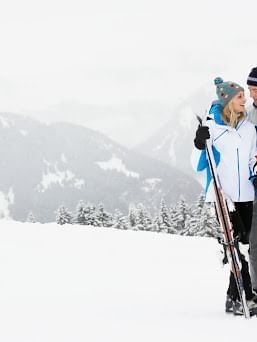 The Ultimate Guide to Skiing in the Poconos
Published On 'October 17
The Poconos has attracted countless visitors to explore the scenic mountains, and in the winter, travelers come from all over the world to experience the region's fabulous skiing opportunities. The Pocono Mountains are home to an abundance of fantastic places to go skiing. Whether you're an experienced skier or new to this winter pastime, the Poconos have you covered.
If you're interested in taking an unforgettable skiing trip to the Poconos, let Cove Pocono Resorts be your guide. With three adults-only resorts nestled in the Pocono Mountains, we're intimately familiar with skiing in the region. With our local insights, you can adequately prepare for an unforgettable skiing trip to the Poconos.
Why Visit the Poconos to Go Skiing?
The Pocono Mountains, known for their enchanting beauty and fantastic recreational opportunities, offer a unique skiing experience for travelers. Close to major metropolitan areas like New York City and Philadelphia, the Poconos provide a convenient escape from the hustle and bustle of city life. Additionally, as already mentioned, this region boasts a wide array of ski slopes, making it an ideal destination for skiers of all skill levels.
Skiing Opportunities Near Our Resorts
At Cove Pocono Resorts, we pride ourselves on providing our guests with unparalleled experiences. While our resorts offer a variety of indoor and outdoor activities, we recognize that skiing is a beloved winter pastime. If you want to explore the area on skis but don't want to hit the slopes, you can enjoy cross-country skiing at Cove Haven and Pocono Palace. For those who do want to enjoy downhill skiing, there are several fantastic ski resorts within a short drive of our properties in the Poconos.
Shawnee Mountain
Located just 40 minutes from Cove Haven, Shawnee Mountain is a great destination for skiing. Experience the rush of skiing on 23 slopes and trails and two terrain parks. No matter your skill level, you'll have a blast at Shawnee Mountain.
Camelback Mountain Resort
Camelback Mountain Resort, approximately 15 minutes from Paradise Stream, is one of the largest and most popular ski resorts in the Poconos. It offers a wide range of slopes and an excellent tubing park for those who prefer a different kind of downhill adventure.
Blue Mountain Resort
Pocono Palace guests will find Blue Mountain Resort just an hour away. This ski area offers some of the Poconos' most varied terrain throughout its 40 trails.
Ski Rentals in the Poconos
If you don't have skis of your own, don't worry because the Poconos is home to many ski rentals. All of the skiing spots discussed above offer ski rentals. Otherwise, there are many outfitters in the region that also offer ski rentals. Ski rentals are never far away when you stay with Cove Pocono Resorts.
Embrace Winter with Cove Pocono Resorts
The Poconos is a fantastic destination for a skiing getaway, and the Cove Pocono Resorts provide the perfect romantic adult-only atmosphere to complement your skiing adventures. With nearby ski resorts and rental shops, you'll have everything you need for a memorable winter escape.

We can't wait to welcome you to our resorts and help you create lasting memories in this snowy paradise. Get ready to hit the slopes and embrace the magic of winter in the Poconos! To book your stay, please get in touch with us at 800-233-4141 or make a reservation online.