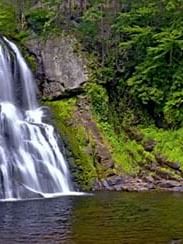 Best Pocono Hiking Trails near Cove Haven
Published On 'April 17
There's a seemingly endless network of hiking trails in the Pocono Mountains near Cove Pocono Resorts, also known as "The Land of Love." While all three of our all-inclusive Pennsylvania resorts have a seemingly endless array of on-site activities and amenities, we fully understand if the lush mountainside calls your name. Luckily for outdoor enthusiasts, we've hand-selected three of our favorite Pocono hiking trails, all of which are a short drive from our playful, passionate, and uninhabited Pennsylvania resorts. When you're not soaking in a tantalizing Champagne Tower Whirlpool, rowing on the world-famous Lake Wallenpaupack, or bicycling through the peaceful Pocono Mountains, we recommend taking a short afternoon excursion to these natural marvels.
Bushkill Falls
Hiking at Bushkill Falls, also known as "The Niagara of Pennsylvania," is one of the top things to do in the Poconos. Not only does this popular park feature eight waterfalls and an extensive network of Pocono hiking trails, but Bushkill Falls is just six miles from Pocono Palace Resort in East Stroudsburg, PA. Four color-coded trails meander through the lush forestry, but we highly recommend the Red Trail, a moderate, two-hour hike that treks past all eight waterfalls! If time is of the essence, feel free to take one of the shorter routes.
Mount Minsi – Delaware Water Gap
The jaw-dropping Delaware Water Gap, which follows the Delaware River on the Pennsylvania-New Jersey border, is home to several crowd-pleasing overlooks and can't-miss Pocono hiking trails. Mount Minsi is one of many hikeable mountains near two of our ultra-romantic Pennsylvania resorts (Paradise Stream Resort and Pocono Palace Resort), and it's arguably our favorite in the area. Pick up the Appalachian Trail on Lake Road and follow that 1.5 miles to Mount Minsi's glorious peak. The trail continues another 1.2 miles, but you can trek back to your car after reaching the summit if you're trying to save time. Mount Minsi provides some of the best Delaware Water Gap vistas in the region.
Shuman Point
Those who are staying with us at Cove Haven Resort can quickly find the 2.5-mile Shuman Point loop along the shores of Lake Wallenpaupack. Despite being over two miles in length, Shuman Point's "Blue Trail" is flat, scenic, and beginner-friendly. The trail provides sweethearts a secluded one hour detour, and you won't find better lake views in Lakeville, PA. Shuman Point is a fantastic spot for an afternoon picnic or a sunset stroll.
All-Inclusive Pennsylvania Resorts
Cove Pocono Resorts provides couples with a year-round haven, far from hectic schedules, noisy traffic, and stressful workplaces. We provide an adventurous, flirtatious, and energetic getaway from those looking for something genuinely romantic deep in the heart of the Pocono Mountains. Soak in a world-famous Champagne Tower Whirlpool, indulge in succulent prime rib, and enjoy nightly live entertainment! Our award-winning Pennsylvania resorts are perfect for honeymoons, vow renewals, and spontaneous romantic getaways. To book a well-deserved summertime escape to the Pocono Mountains, please give us a call today at 1-800-432-9932.