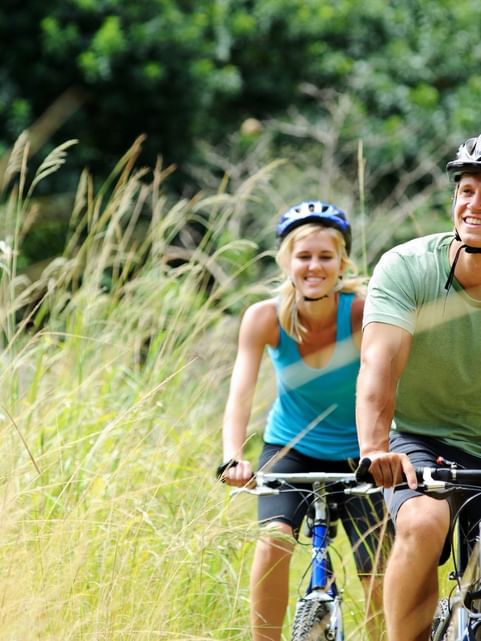 Biking in the Poconos: Our Favorite Trails
Published On 'August 28
BIKING IN THE POCONOS: OUR FAVORITE TRAILS
The Pocono Mountains are the ultimate destination for outdoor adventures. One of the best ways to immerse yourself in the area's stunning natural beauty and see all of the sights is by bike. Biking in the Poconos is a blast, and there's an abundance of fantastic trails for you to explore.
With three adults-only resorts in the Poconos, the team at Cove Pocono Resorts are experts in the area. Our blog is full of information that will help you plan a romantic getaway to the Poconos. Today, we'll help you with your Poconos biking needs by giving you a preview of some of our favorite bike trails in the area.
PROMISED LAND STATE PARK
Located about 30 minutes away from all three of our resorts in the Poconos, Promised Land State Park is a gorgeous park and an ideal biking destination. Here, bikers share the road on the 6.5-mile paved road around Promised Land Lake and the park's campgrounds. For a mountain biking experience, Promised Land State Park is surrounded by Delaware State Forest, which has several designated mountain biking trails for visitors to enjoy.
MCDADE RECREATIONAL TRAIL
Located near Pocono Palace, McDade Recreational Trail is a 31-mile trail that spans nearly the entire length of the Delaware Water Gap. While the trail is undoubtedly on the longer side, it's mostly flat, making for a relatively easy ride along the river and many historical and archaeological sites. There are also separate trailheads, so you don't have to bike the whole trail. On weekends in the summer, there's even a bus shuttle running between the trailheads.
GLEN PARK
If mountain biking is your preferred method of biking, there's perhaps no finer place in the Poconos than Glen Park. Glen Park features everything you want in a mountain biking trail, climbs, drops, gap jumps, and more. It's long been a mountain biking mainstay in the Poconos, so don't be surprised to see other riders during your outing.
GO BIKING AT OUR RESORTS IN THE POCONOS
While there are many excellent biking trails in the Poconos, you don't have to leave our resorts to experience a great biking experience. We offer bicycling at all of our resorts, allowing you to get out and check out the scenery without having to worry about renting a bike and dealing with hard-to-find trailheads.
Biking is just one of the great activities you can enjoy at our couples resorts in the Poconos. In addition to our full offering of activities, we also offer delectable dining options, fabulous entertainment, and romantic suites. Please check availability online or call us at 888-963-3048 for more information.