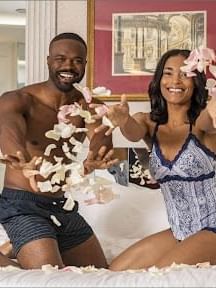 Earn Points and Save with the Lovers Forever Club
Published On 'May 17
There's nothing better than packing your bags and heading out on a romantic escape. With three incredible properties in the Poconos Mountains, there's also no better destination for your trip for two than Cove Pocono Resorts. Our couples-only resorts are jampacked with incredible things to do that'll create lifelong memories with the one you love most. Save on getaways with us by signing up for the Lovers Forever Club. Keep reading to learn more about this Poconos resort deal.
How Do You Earn Points?
There are three tiers of membership in our Lovers Forever Club at our resorts in Pennsylvania. The Bronze Exclusive earns you two points for every dollar spent on a room rate and one point for every dollar spent in the bar, cafe, nightclub, and gift shop.
When you reach the Silver Exclusive, you get three points for every dollar spent on room rate as well as exclusive Forever Lover rates. In addition to one point for every dollar spent in the cafe, gift shop, nightclub, and bar, you'll also enjoy 15 percent off the gift shop and cafe. This level also includes two themed reunion weekends, a silver pin recognition, 1 p.m. late checkout, and a two-level suite upgrade at check-in, based on availability.
The top level, the Gold Exclusive, features the same point per dollar in the bar and other places and exclusive Forever Lover rates. However, this level gets you four points for every dollar spent on your room rate, 20 percent off in the gift shop and cafe, and a welcome gift at check-in. Depending on availability, you can also upgrade to a two-level suite when booking your stay.
How to Redeem Your Points
Our helpful reservations team is here to assist you when you decide it's time to redeem your points. Point redemption varies depending on the day of the week and holidays or peak season. For example, you need 8,000 points for the Roman Tower on weekdays but 10,000 points for the same thing during holidays, peak seasons, or special events. More information on how to redeem your points can be found online.
Learn More about Our Poconos Resort Deals
The best way to learn about how our Lovers Forever Club can help you save when staying at Cove Haven, Paradise Stream, or Pocono Palace is by reaching out to us today! Call 800-233-4141 to learn more about this program or reserving your Poconos getaway with Cove Pocono Resorts.