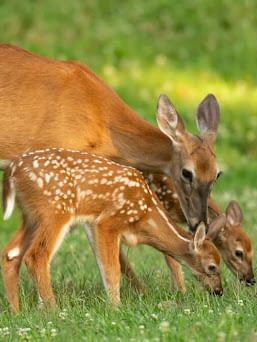 Keep Your Eyes Peeled for Amazing Pocono Wildlife
Published On 'May 05
One of the best things to do on vacation is to disconnect from technology for a little while and get outdoors. For those planning a getaway with Cove Pocono Resorts, there are countless ways to do just that at all three of our fantastic properties. No matter where your adventures led you, keep your eyes open for the wildlife that calls the Pocono region home.
From Cove Haven on the shores of Lake Wallenpaupack to Pocono Palace Resort on Echo Lake or Paradise Stream Resort in the heart of the Pocono Mountains, our resorts are found in some of the most beautiful landscapes around. Not only does this mean you're surrounded by breathtaking flora but also magnificent fauna.
What Animals Can You See in Pennsylvania
Whether wandering the grounds of your chosen resort or hiking to a beautiful waterfall, there is no shortage of natural attractions to explore. These spots are also the perfect place to enjoy a bit of wildlife viewing. To help you know what to look for, the Cove Pocono team has put together a list of the animals you can spot in the Pocono Mountains.
Majestic mammals: Some of the most common mammals to spot in this region include white-tailed deer, red foxes, black bears, bobcats, and coyotes.

Aquatic life: The countless ponds, rivers, lakes, and streams are home to a wealth of marine life, like several species of trout as well as catfish and large and smallmouth bass.

Avian friends: Don't forget to look towards the sky and trees to see how many of the more than 260 species of birds you can spot, including great blue herons to bald eagles to mallards.
Explore Picture-Perfect Scenery with Cove Pocono Resorts
No matter which of the romantic Cove Pocono Resorts properties you stay at, incredible adventures are all around you. See what Pocono wildlife you can spot as you go for a bike ride around the property or set off on a romantic sunrise hike.
If you're looking to spend quality time with the one you love most, book your stay at one of the best resorts in Pennsylvania. A Poconos getaway with us is a phenomenal way to create lifelong memories. Reserve your stay online, or call 800-233-4141 to learn more.