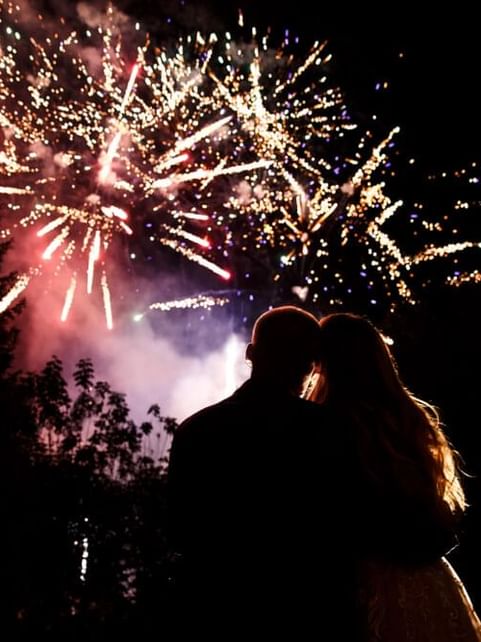 Plan a Romantic 4th of July Trip to the Poconos
Published On 'May 29
Who says Independence Day has just to be hot dogs and sparklers? If you're looking to make this summer holiday even more special, plan a trip with Cove Pocono Resorts. Our three luxurious Poconos resorts are the ideal destination for any couple looking to add a bit of romance to their 4th of July fun. Whether checking out local festivities or exploring what to do right at your resort, there are plenty of things to do during your getaway.
What to Do on Your Independence Day Escape
At each of our resorts, Paradise Stream, Cove Haven, and Pocono Palace, there is a wealth of things to do. Enjoy some friendly competition with a game of mini-golf at Cove Haven; loser has to give the winner a massage that night. Work on your summer glow in the tanning beds at Pocono Palace, or hike along the natural trail at Paradise Stream. The best way to partake in all our on-site activities is by signing up for the Key Around club.
While there are endless things to do right at your chosen resort, there is also endless fun all around you. Start your 4th of July off with a sunrise hike in Big Pocono State Park. Take in stunning views of the river as you ride along the Lehigh Gorge Rail Trail.
Of course, no 4th of July celebration is complete without a spectacular fireworks show. For guests at Paradise Palace, make your way to Eastburg's Big Bang Fireworks, which don't actually take place on the holiday. Take in the colorful display as fireworks burst over Lake Wallenpaupack on July 4th, the perfect experience for Cove Haven guests. If you're staying with us at Paradise Stream, check out the Independence Day Celebration at Camelback Mountain Waterpark.
Before heading to a prime viewing spot, enjoy a romantic dinner at one of the on-site restaurants at your resort.
Get Away This Summer to the Poconos
Whether looking for somewhere new to celebrate the 4th of July or planning a summer trip just because you can, the Poconos region is the perfect destination. Make your escape extra romantic by staying with Cove Pocono Resorts. Our couples-only resorts have everything you need for the best vacation possible.
All three of our resorts are home to luxurious accommodations, ranging from guestrooms to suites. Learn more about our properties and room options by browsing our website. When you're ready to book your stay, call 800-233-4141 or reserve your stay online.