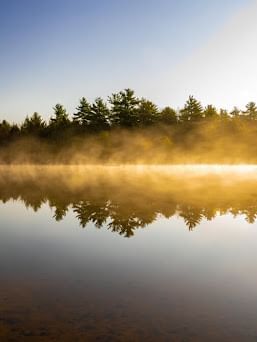 Enjoy a Romantic Sunrise on a Hike in the Poconos
Published On 'March 03
Sunsets get a lot of attention for being a romantic attraction but don't overlook the equally beautiful sunrise. In the Pocono Mountains, there are numerous hikes where you and your partner can enjoy a stunning sunrise. The team at Cove Pocono Resorts is here with some tips on catching a romantic sunrise in the Poconos. With three adults-only resorts in the Poconos, we have a lot of experience in the area's romantic activities. With our insights, you and your loved one can enjoy a sunrise hike in some of the Poconos' most beautiful locations.
3 Fantastic Sunrise Hikes in the Poconos
The Poconos offer quite a few immaculate spots for taking in the sunrise. However, these three locations are some of our favorites, and they're close to our romantic resorts throughout the region.
1. Big Pocono State Park
Located about 20 minutes away from Paradise Stream, Big Pocono State Park offers stunning views from the summit of Big Pocono, which are even more breathtaking at sunrise. One of the most popular is Indian Trail, a 1.7-mile loop trail that takes hikers over rocky terrain. It's a moderately difficult hike, but it offers picturesque views of the sunrise. Before you embark on your sunrise hike, double-check that the park is open; Big Pocono State Park is closed during the winter months.
2. Tobyhanna State Park
If you're staying at Cove Haven, spectacular sunrise views are nearby at Tobyhanna State Park. We recommend taking the 5.1-mile loop around Tobyhanna Lake. The trail is easy, so you can enjoy a nice leisurely stroll to catch the sunrise. The best place to catch the sunrise is on the western side of the lake, where you can enjoy the reflection of the sun on the water. Keep an eye out for wildlife, which is frequently sighted on the trail.
3. Delaware Water Gap National Recreation Area
Guests at Pocono Palace are in a prime location to enjoy the Delaware Water Gap. This iconic natural area offers stunning views of the Delaware River and surrounding mountains. The park offers several hiking trails, but the best for sunrise is Mount Tammany Trail. This trail is 3.5 miles long and strenuous, with a steep climb over rocky terrain to the summit.
More Romantic Activities in the Poconos
After starting your morning off right with a sunrise hike, keep the romantic energy going at one of our resorts in the Poconos. All three of our resorts were designed with romance in mind, so we have everything you and your partner need to connect for some quality one on one time. We offer a full slate of on-site activities, delicious dining, live entertainment, and romantic accommodations. You can book your stay with us online or call 888-963-3048 to learn more about our Poconos properties.