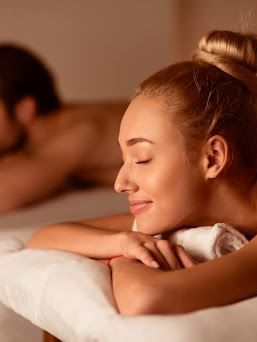 Get Pampered at the Best Spa Resorts in the Poconos
Published On 'July 06
Have you ever returned from vacation, still feeling stressed? The phrase, "I need a vacation from my vacation," does not apply to travelers vacationing in the fine spa resorts in the Poconos. At Cove Pocono Resorts, all three of our adults-only resorts in the Poconos offer luxurious spa experiences best enjoyed with your partner.
If you're looking for a vacation full of pampering and romance, Cove Pocono Resorts has you covered. We're highlighting the extensive spa and body services we offer at our resorts to give you an idea of the relaxation that awaits.
Fabulous Spa Resorts in the Poconos
At Cove Pocono Resorts, we pride ourselves on providing a range of premium spa treatments designed to pamper and rejuvenate at all three of our resorts. No matter whether you're staying at Cove Haven, Pocono Palace, or Paradise Stream, you can count on a truly relaxing experience.
One of the highlights of their spa menu is the couples relaxation massage, a treatment that promises to transport you and your partner to a state of blissful relaxation. Side-by-side, you'll both enjoy the expert touch of skilled massage therapists, easing away tension and leaving you feeling renewed.
For a truly unique and delectable experience, the hot chocolate massage is a must-try. This signature treatment incorporates hot stones into your full body massage for a wonderfully relaxing experience that also includes chocolate aromatherapy, as well as a peppermint foot lotion. The hot chocolate massage is another couples treatment that you won't soon forget.
This only scratches the surface of our spa services. We also offer a heated bamboo massage, hot stone massage, therapeutic massage, mommy and me pregnancy massages, and more. For a full list of our services, visit our spa website.
Experience the Ultimate in Relaxation & Romance
Let Cove Pocono Resorts help you and your partner unwind and reconnect at our resorts in the Poconos. Whether you spend your days exploring the breathtaking scenery of the Pocono Mountains or enjoying the many on-site activities at the resorts, the spa experience will undoubtedly be a highlight of your romantic vacation.
You can book your stay at one of our romantic resorts in the Poconos online. For more information on our spa services or to schedule an appointment, call 570-424-0550.