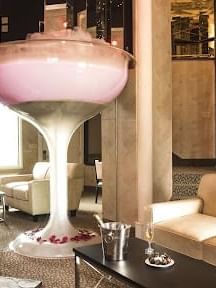 Indulge in Romance at Cove Poconos Resorts' Suites
Published On 'July 18
Indulge in Romance at Cove Poconos Resorts' Suites
Are you and your partner yearning for a magical escape where romance and luxury intertwine? Look no further than Cove Pocono Resorts, where three enchanting retreats – Cove Haven, Pocono Palace, and Paradise Stream – await to whisk you away on an unforgettable romantic vacation in the Poconos. One thing that sets us apart from other resorts in the Poconos is our elegant suites, which helped popularize the heart-shaped tub and bring partners closer together.
Our suites combine romance and luxury to create an unforgettable setting for spending quality time with your partner. It's truly a one-of-a-kind experience that will bring you and your loved one closer together. Want to learn more about our fabulous suites? We're peeling back the curtain to put a spotlight on what you can expect when staying at the most romantic suites in the Poconos.
Romantic Suites to Elevate Your Poconos Vacation
Each of our three adults-only resorts in the Pocono Mountains features alluring suites. Every suite is meticulously designed to cater to your most intimate desires and fantasies. From the moment you step into these opulent accommodations, you'll be enveloped in an atmosphere of love and tranquility, leaving behind the stress of everyday life.
Each suite is equipped with a unique theme and incredible amenities. Imagine a cozy experience with a heart-shaped whirlpool bath and a fireplace to set the mood or an exotic escape boasting a private indoor pool in a stunning Roman-inspired suite. There's even a suite with a seven-foot-tall champagne glass whirlpool bath for a truly indulgent toast to your love. Many suites also feature great views of lakes, golf courses, and more. No matter which amenities drive your imagination wild, we have the perfect suite for you. Our suites are the ultimate playground for love.
The romantic suites at our resorts in the Poconos are suitable for any occasion, but they are very popular with couples celebrating honeymoons, anniversaries, birthdays, babymoons, and more. Elevating your stay with a suite is a great way to mark any occasion.
Love Knows No Bounds at Cove Pocono Resorts
Beyond our extravagant suites, all three of our resorts have everything you need for a memorable stay in the Poconos. We offer delicious on-site dining experiences, a slew of exciting activities, live entertainment, and so much more. Let your love run wild at our resorts! Reserve your romantic suite in the Poconos online, or call 800-233-4141 to learn more.