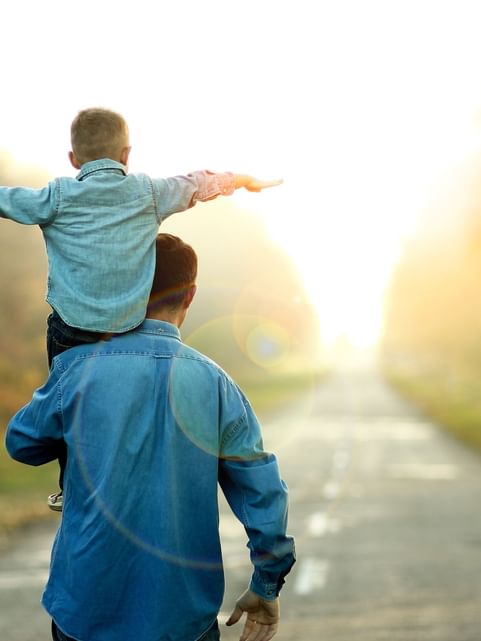 Plan a Father's Day Trip to the Poconos
Published On 'May 03
PLAN A FATHER'S DAY TRIP TO THE POCONOS
Your partner is a fantastic father, but shopping for the perfect Father's Day gift can be difficult. If you're tired of getting him ties, tools, and other gifts that fall short, consider taking him on a romantic Father's Day trip to the Poconos.
A Father's Day trip is a fantastic gift because everyone likes to travel; a study shows that 95% of people want to travel in the next 15 months. A vacation is also the perfect way to break free of your daily routine and find time for romance, which your husband will surely appreciate. Plus, there's nowhere more romantic than the beautiful Pocono Mountains. Are you interested in creating memories that will last a lifetime with a Father's Day trip to the Poconos? Read on for Cove Pocono Resorts' guide on planning a Father's Day getaway dad will love.
EXCITING ACTIVITIES FOR DAD TO ENJOY IN THE POCONOS
If your partner is an outdoors enthusiast, he'll love spending time in the Poconos. This mountainous area is a playground for outdoor recreation of all kinds. Beautiful state parks are ideal places for hiking, boating, fishing, birdwatching, and more, and the area's stunning scenery will be the perfect backdrop for any outdoor adventure.
The Poconos are also known for some fantastic golf courses. If your partner enjoys spending time on the links, exploring the best courses that the Poconos have to offer will be an absolute treat, and many of them are just a short drive from our resorts.
Delicious food and treat are plentiful in the Poconos as well. Whether dad is a foodie, wine connoisseur, or craft beer lover, the Poconos have plenty of terrific restaurants, wineries, and breweries to keep him busy and his belly full.
A TRIP DESIGNED WITH ROMANCE IN MIND
One of the best ways to make your Father's Day trip extra special is to put a focus on romance. Let's face it; sometimes, it can be challenging to make time for just the two of you. If that sounds like you, Cove Pocono Resorts has you covered. We have three adults-only resorts in the Poconos, allowing you and your partner to connect on an intimate level without having any distractions.
We've been helping couples spark their romance in the Poconos for decades. We've designed our lodgings with romance in mind, but our luxury suites take that to a whole new level. Each suite has a theme and fantastic amenities like a fireplace and heart-shaped tub, perfect for setting the mood and enjoying each other's company.
In addition to our romantic accommodations, our resorts have plenty to keep guests entertained. We offer a wide array of on-property activities, ensuring there's something for every interest. Plus, we also feature live entertainment, like bands, comedians, magicians, and more. We even have mouthwatering on-site dining options. When you stay with us, you won't even have to leave the resort to have a fantastic Father's Day trip to the Poconos.
We would be thrilled to host your Father's Day getaway at any of our couples resorts in the Poconos. You can make reservations online or by calling us at 888-963-3048. We look forward to making your Father's Day celebration one to remember!