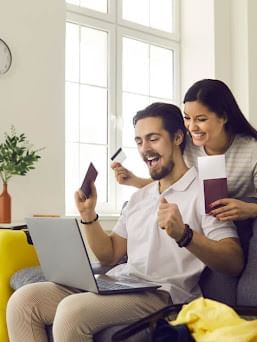 Save on Your Trip With Deals from Cove Pocono Resorts
Published On 'September 27
Save on Your Trip With Deals from Cove Pocono Resorts
A romantic getaway to the Poconos doesn't have to cost a fortune. At Cove Pocono Resorts, we offer deals and packages so couples can save on their vacation because romance should be affordable for everyone. The deals we are offering are constantly changing, but these are some of our current offers at our three adults-only resorts in the Poconos: Cove Haven, Paradise Stream, and Pocono Palace. These savings will make your stay more affordable.
1. Save Up To 30% When You Stay 3 Nights or More
Let's start with the deal that's music to any traveler's ears – saving money on luxurious accommodations! When you stay with us for three nights or more, you can enjoy an impressive discount of up to 30 percent. This means more savings for exciting activities, dining, and relaxation. It's the perfect opportunity to explore the breathtaking beauty of the Poconos region and delight in our romantic accommodations without breaking the bank.
2. Ultimate Honeymoon Package
Planning a honeymoon? Look no further than our Ultimate Honeymoon Package. We've helped countless couples enjoy a romantic honeymoon in the Poconos, and you could be next. We understand that this is a once-in-a-lifetime experience, and we want to make it absolutely perfect for you. Our package includes:
A stay in our iconic Champagne Tower Suite.

Suite setup with rose petals, fire log, bubble bath, and candles for that extra touch of romance.

Daily breakfast and dinner to savor gourmet meals throughout your stay.

An Aphrodisiac Treat featuring delectable chocolate-covered strawberries.

Enjoy a 15% discount in our Café.

Relish in a romantic private dining experience.

Complimentary champagne, bucket, and glasses to toast to your love.

An off-site horseback riding experience in the Poconos.
This package is specially designed to create unforgettable memories during your honeymoon, and it's available at all three of our resorts.
3. The Breakfast Package
We understand that after a night filled with romance and adventure, you might want to enjoy a leisurely breakfast in your suite. That's where the Breakfast Package comes in handy. With the Breakfast Package, you can savor a delicious breakfast without leaving the comfort of your suite. It's the ideal option for those who just can't get enough of their cozy hideaway or want to fuel up for another exciting day in the Poconos.
Deals on Resorts in the Poconos
With the deals at our couples resorts in the Poconos, you can save big on your next romantic escape. Remember that these deals are temporary and change frequently. Keep up to date on our offers page for the latest savings opportunities at our resorts in the Poconos. For more information, give us a call at 800-233-4141.