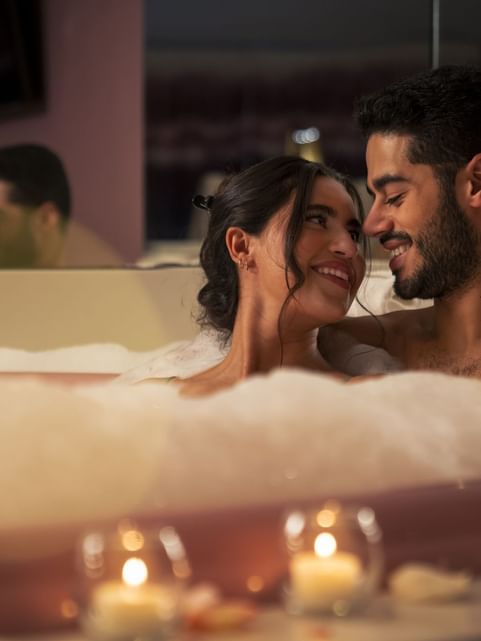 Relax with a Spa Vacation to the Poconos
Published On 'March 04
Relax with a Spa Vacation to the Poconos
Sometimes, you need to escape the stresses of everyday life. A vacation is a great way to break free from your routines and spark a sense of rejuvenation in yourself. For a little extra rejuvenation, add a trip to the spa to your vacation itinerary.
At Cove Haven Entertainment Resorts, we have three romantic resorts in the Poconos, each equipped with a luxurious spa to provide you with a relaxing getaway. We'd love to host you for a stay and body service to help you melt your troubles away. Want to learn more about our spas? Continue reading for more information.
OUR RESORTS PROVIDE THE ULTIMATE SPA VACATION IN THE POCONOS
When you stay at any of our three resorts, you don't even have to leave the resort to enjoy top-notch spa services from trained professionals. Simply pick a service, make a reservation, and walk on down to the spa and we'll take care of the rest.
We offer a wide range of spa treatments to ensure we can provide the soothing experience perfect for your needs. Massages are one of our most popular types of body treatments, and we offer several different varieties to accommodate all types of travelers to the Poconos. Our relaxation massages provide 40 or 55 minute light to medium-pressure massage sessions. Enjoy it with your partner; we also offer romantic couples massages where you and your partner will experience the ultimate sense of relaxation together.
Are you looking for something a massage that's a little different? We offer a hot stones massage that incorporates hot stones to provide stress relief and ease body tension. On a similar note, our sticks and stones massage also includes hot stones in addition to warm sticks of bamboo to create a one-of-a-kind massage experience you'll have to try for yourself.
Another popular option is aromatherapy. With this trending option, you will relax, rejuvenate, and stimulate your senses. We incorporate aromatherapy in our hot chocolate massage and mint to be massage services and have it available as an add-on to pair with our other offerings as well. If you can't get enough, you can purchase from our aromatherapy collection and take it home to always have a little bit of relaxation with you.
RELAXING POCONOS GETAWAYS BEGIN AT COVE HAVEN
Spa treatments are just one of the ways you can relax on vacation at our Poconos resorts. We
have on-site dining, so you don't need to worry about cooking and plenty of live entertainment and exciting activities to help you leave your stress behind. Our romantic suites are also great places to unwind for some alone time with your partner, with great features like comfy beds, champagne tubs, fireplaces, and more. Did we mention our resorts are adults-only? To book a rejuvenating stay with us, please call us at 888-963-3048.