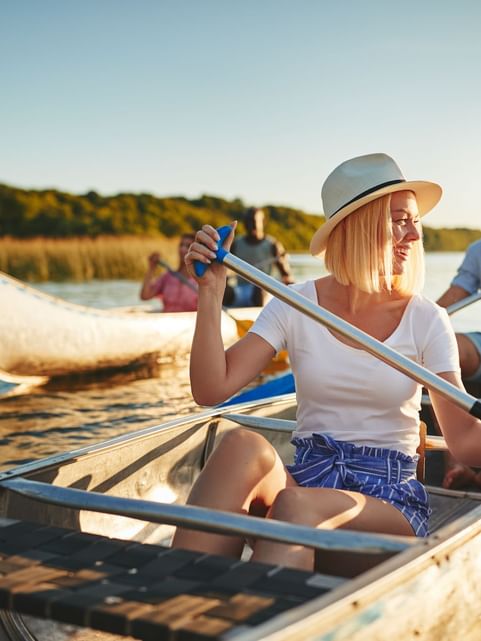 The Ultimate Guide on Canoeing in the Poconos
Published On 'March 12
THE ULTIMATE GUIDE ON CANOEING IN THE POCONOS
The scenic Poconos are home to 150 lakes and miles and miles of winding rivers. With so many bodies of water, it's no wonder the Poconos are a hotspot for canoeing adventures. Paddling through the pristine waters of the Poconos is a fun and exciting way to explore the area's natural beauty while spending quality time with your partner.
THE BEST CANOEING IN THE POCONOS
Need help finding the perfect spot to paddle? Cove Haven Entertainment Resorts is here to help. With three adults-only resorts in the Poconos, we're experts in the area and can recommend our places to go canoeing in the region.
LAKE WALLENPAUPACK
Paddle the largest lake in Northeastern Pennsylvania, Lake Wallenpaupack. Cove Haven Resort is located right next to this man-made lake, making it incredibly convenient for our guests. If you're new to canoeing, Lake Wallenpaupack is a great place to learn as the water is calm. There are 5,700 aquatic acres to explore, so you'll have plenty to see. After you get done paddling, there are plenty of hiking trails to experience onshore.
DELAWARE WATER GAP NATIONAL RECREATION AREA
Encompassing 40 miles of the Delaware River, the Delaware Water Gap National Recreation Area is a great place for canoeing in the Poconos. A water gap occurs when a river cuts through a mountain ridge, which is exactly what the Delaware River did as the area transformed over millions of years. Here, you can canoe the gap, head toward Arrow Island, and more. The Delaware Water Gap National Recreation Area is just a short drive from Pocono Palace.
LEHIGH GORGE STATE PARK
If you're an experienced paddler and looking for a challenge, head to Lehigh Gorge State Park. Lehigh Gorge State Park is a drive from all three of our resorts, but it's certainly worth a visit. At Lehigh Gorge State Park, you'll have an opportunity to canoe the Lehigh River taking on class II to III whitewater rapids as you paddle the winding river through the gorge. It's a beautiful and unique Poconos canoeing experience that is only suitable for skilled canoers.
FIND ADVENTURE IN THE POCONOS AT OUR ROMANTIC RESORTS
Besides canoeing, there's so much to do in the Poconos. No matter your interest, you'll find
adventure lying around every corner. If you're looking for the perfect place to stay on your getaway to the Poconos, consider Cove Haven Entertainment Resorts. We designed our resorts with romance in mind, and we offer an incredible variety of on-site activities and entertainment. To stay with us, call us at 888-963-3048 or check availability online.