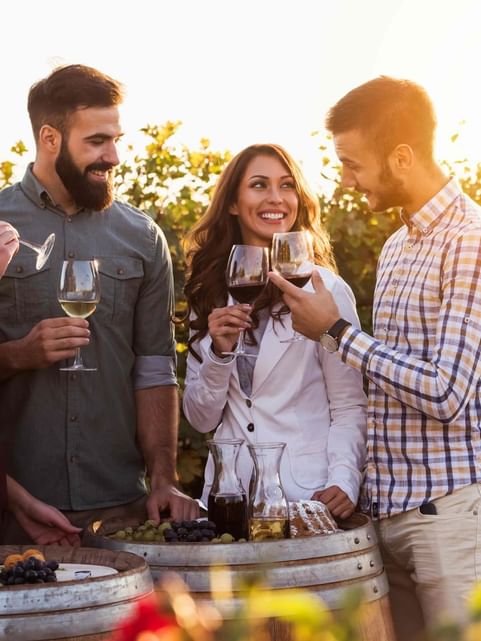 Sample Wine from the best Wineries in the Poconos
Published On 'February 03
If you have a passion for wine, head to the Poconos. The Poconos offers a gorgeous setting for this romantic activity. While the Poconos isn't world-renowned as a wine mecca like Napa or Sonoma Valley, visitors are surprised and impressed by the area's bustling wine scene, especially in the Stroudsburg area. There are plenty of great wineries in the area worth checking out.
3 FABULOUS WINERIES IN THE POCONOS
Are you looking for some suggestions on where to get started? You've come to the right place; the team at Cove Haven Entertainment Resorts is here to point you in the right direction. Here's our guide on the best wineries in the Poconos.
MOUNTAIN VIEW VINEYARD
Enjoy your wine with fantastic scenery at Mountain View Vineyard. Sitting out on the porch with a drink in your hand and awe-inspiring mountain views, you'll feel like you've found a slice of paradise. In addition to making wine, they also brew their own beer and distill spirits. While the vineyard is excellent for its unbeatable setting, they also have a wine bar and taproom in a more urban environment in East Stroudsburg. Reservations are required on the weekends.
THE RENEGADE WINERY
Located in the heart of historic Stroudsburg, The Renegade Winery dares to be different. They were the Pocono Mountain region's first urban winery. They offer a wide assortment of wines to try, including unique offerings like jalapeno and mango habanero. Don't get scared off by their bold flavors; the Renegade Winery also has more traditional offerings, such as selections of dry red and whites. Our personal favorite is their chardonnay, which is incredibly fresh and crisp. The Renegade Winery is part of the Pocono Wine Trail.
EAGLES REST CELLARS
After 30 years as Christmas tree growers, Eagles Rest Cellars expanded into the wine business, and the transition was seamless. They offer two unique tasting options. The first is the solo flight, where you can enjoy sampling four wines at your own pace. The second is a first-class tasting experience, where you'll sample seven wines with a knowledgeable wine attendant who can guide you through the tasting. They have a beautiful outdoor area complete with fireplaces to stay cozy.
PAIR YOUR POCONOS WINE TASTINGS WITH A ROMANTIC RESORT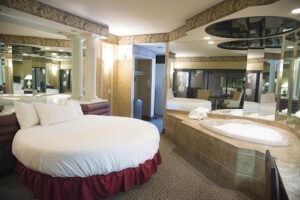 Make a romantic weekend out of your Poconos wine tasting adventure at one of our resorts. These great Poconos wineries are under a 30-minute drive away from Paradise Stream and Poconos Palace. After your tastings, return to your resort's intimate setting for some alone time. Our fantasy suites are the perfect place to spend a romantic outing in the Poconos. To book your stay, please get in touch with us at 800-233-4141 or make a reservation online.