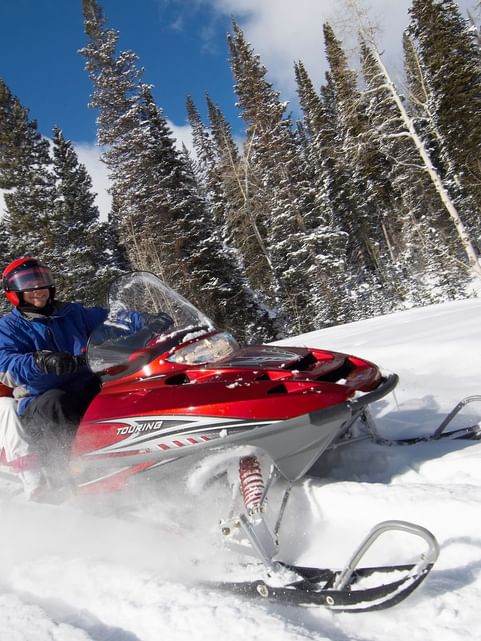 Satisfy Your Need for Speed: Snowmobile Rentals in the Poconos
Published On 'November 24
SATISFY YOUR NEED FOR SPEED: SNOWMOBILE RENTALS IN THE POCONOS
The Poconos landscape is stunning any time of year, especially when everything is covered in a fresh layer of powder. For those who like getting outside and enjoying all things winter, there is no shortage of memorable adventures to check out during your winter vacation. For a thrilling outing that'll have you surrounded by breathtaking scenery, explore the Poconos on snowmobile rentals.
No matter what activities are on your itinerary, you'll find something that fits the bill near Cove Pocono Resorts. The team at our resorts is here to help you have the best Poconos getaway possible, and that includes helping you find local services that meet your winter adventure needs.
RENT FROM OUR POCONOS RESORT
While the Poconos Mountains are filled with snowmobile trails, rentals are a little harder to come by. However, at Pocono Palace Resort, one of our incredible resorts, guests have access to snowmobiles that are safe and well-maintained.
You don't have to be staying at this resort to enjoy these rentals. Thanks to Key Around Club shuttles, guests at all three resorts can go for a ride.
After getting set up with your "sled," set off to explore the winter wonderland surrounding our resort. Found on the edge of the Delaware Water Gap., the grounds of Pocono Palace are filled with towering hillsides and peaceful countrysides that look straight out of a snow globe.
RESERVE YOUR WINTER ESCAPE TO THE POCONOS
Winter is just getting started, so you have plenty of time to plan your getaway with Cove Pocono Resorts. Our couples-only resorts are the perfect blend of romance and adventure. Explore the Poconos on snowmobile rentals or enjoy countless other activities, like swimming and snowshoeing.
Each of our three resorts has its own unique atmosphere and identity. Between all resorts, we have over 500 suites and 16 unique room types, which means plenty of options when booking your stay. Call 888-963-3048 to learn more about our Poconos resorts, or book your stay online today.