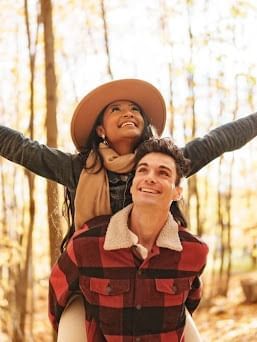 Plan a Memorable Thanksgiving in the Poconos
Published On 'October 06
Thanksgiving is a time to give thanks, enjoy delicious food, and create lasting memories. Thanksgiving is one of the busiest times for travel of the year, and if you're looking for an unforgettable destination to celebrate this holiday, the Pocono Mountains in Pennsylvania is the perfect choice.
The Poconos are a fantastic destination year-round, but come Thanksgiving, this popular location becomes even more peaceful and serene, making it an excellent spot for a romantic getaway. You and your partner can enjoy an incredibly romantic Thanksgiving in the Poconos with Cove Pocono Resorts. Our three adults-only resorts in the Poconos provide intimate accommodations, fun activities, live entertainment, and delicious food. Learn more about why you should spend Thanksgiving in the Poconos at our resorts.
Celebrate Thanksgiving With Cove Pocono Resorts
Whether you're looking for a relaxing holiday or one filled with excitement, you can enjoy either at one of our three resorts: Cove Haven, Paradise Stream, and Pocono Palace. For over 50 years, we've celebrated Thanksgiving with countless couples enjoying a romantic getaway. It's a different kind of Thanksgiving, but one we know you'll love.
Many guests are drawn to our resorts due to our romantic suites, which are the best in the Poconos. With amazing amenities like log-burning fireplaces, heart-shaped tubs, private pools, and more, you and your partner are in for an intimate Thanksgiving getaway that will bring you closer together.
While some couples prefer to spend their entire stay in our stunning suites, those who venture outside of the room are rewarded with a slate of enticing activities. Our resorts offer a wide range of activities like racquetball, duckpin bowling, curling, billiards, and so much more. As you participate in these great activities with your partner, you'll feel your connection growing stronger.
Another highlight of spending Thanksgiving at our couples resorts in the Poconos is our delicious on-site dining options. Don't worry about the hassle that comes with preparing a Thanksgiving feast; our in-house restaurants will do the cooking for you. We think you'll agree that Thanksgiving tastes even better when you don't have to cook. Sit back, relax, and enjoy a fabulous meal that excites your palate.
Besides all of the great things you can enjoy on our properties, a Thanksgiving trip to the Poconos is also a great time to experience the amazing attractions the region has to offer. Whether you enjoy hiking, visiting local wineries, or visiting museums, the Poconos has attractions suitable for every interest. Once you've completed your adventures, head back to your resort and relax in comfort.
Enjoy an Unforgettable Thanksgiving in the Poconos
This Thanksgiving, escape the routine and create cherished memories with your loved one in the Pocono Mountains. Cove Pocono Resorts offers three distinct and captivating options to ensure your celebration is nothing short of magical. When you're ready to book your stay, call 800-233-4141 or reserve your stay online.